Five titles to shed light on the Fab Four's lives and music.
---
By Allan Kozinn
We all know the Beatles as stars and voices, but Kozinn, a classical music critic for the New York Times, examines how the profoundly innovative composers of the group—Lennon, McCartney, and Harrison—worked together and grew apart, how they were influenced, and how they each experimented with new forms.
---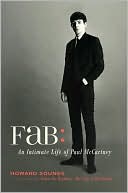 Fab: The Life of Paul McCartney
By Howard Sounes
Sounes, the author of bestselling biographies of Bob Dylan and Charles Bukowski, turns his exacting eye to the life of McCartney, who, even outside his legendary partnership with John Lennon, has been one of the world's most-loved entertainers. Using more than 200 hours of interviews and meticulous research, Sounes pieces together a complex life of a man whose sunny melodies belie a sometimes ruthless ambition.
---
By The Beatles
McCartney, Starr, Harrison, and Yoko Ono Lennon worked in a rare but monumental collaboration to provide this multi-vocal account of life "inside" the Beatles. Made up of a series of interwoven quotes from the band members and their associates (producer George Martin, road manager Neil Aspinall, etc.), The Beatles Anthology offers an oral history of the group that rivals any family saga in its fascinations.
---
By Steve Turner
For anyone who's wondered whether there was a real meter maid named Rita, Steve Turner has the answer. The biographer of Van Morrison and Marvin Gaye tells the story of where every lyric from every Beatles song originated and illustrates just how much everyday people and events can influence the creative process. Hundreds of photographs add a rich visual dimension to these beguiling revelations.
---
Yesterday:
The Beatles Once Upon a Time
By Max Scheler and Astrid Kirchherr
Scheler and photographer Kirchherr, who was engaged to original Beatle Stu Sutcliffe (and responsible for the foursome's signature moptops), capture the band during the filming of their first film, A Hard Day's Night, just as they're unknowingly on the verge of conquering the world.
(More of Kirchherr's work, much of which followed the band into megastardom, can be seen in the recently released Astrid Kirchherr: A Retrospective.)