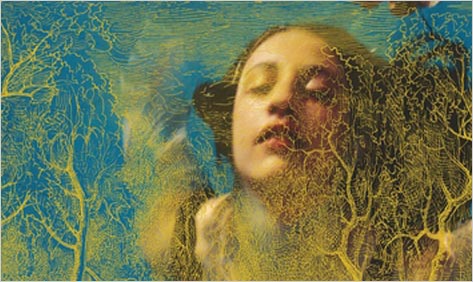 The flinty, shattered townscape of central Massachusetts is the setting for The Beginners, the debut novel of poet and Fence magazine founding editor Rebecca Wolff. Lost amid the indistinct byways that run between Boston's tangled traffic and the glossy, tree-furred Berkshires, once a diaspora of discontent for New Englanders unsettled by the Puritans' round-headed pieties, the district glimmers with a kind of broken magic, where abandoned mills glower from the river bluffs and reservoirs are reputed to hide the rooftops and steeples of lost towns.
It's a faded enchantment to which Ginger, Wolff's smart and suggestible adolescent protagonist, is particularly alive–which is why she's singled out by an enigmatic couple who move to town at the beginning of the summer of her fifteenth year. Walleyed and wan, sallow and lean, Raquel and Theo carry the burden of a fey glamour all their own; to the bookish Ginger, their tales of graduate school and the promise of volumes to be written prove impossibly seductive, driving a wedge between her and her pretty-but-dull best friend, Cherry.
But some nimbus of disease hangs about Theo and Raquel, who laugh through gnashing teeth as they spin erudite anecdotes about hanged witches and drowned towns. A threat lurks, languorous and stealthy, in these tales and the obsessions they seem to punctuate–and of course this doubtful cloud casts its spell on the receptive Ginger.
Wolff limns her story of misbegotten love and duplicitous desire with an ear for the plaint of the reverie-stricken teen, a mind tuned to the haunted territories of adolescence, and an eye for how incipient horror manifests itself in small-town spaces–the way the "bright grass of the green is made denser, more dimensional through the tiny cross-hatching" of the screen doors, for instance. And yet despite Ginger's vivid eye, there is a kind of stock, Mayberry-meets-Amityville character to her town. With such sturdy names as Shift and Wick, the geography of The Beginners lacks the evocative prosody of place, the meeting of the treacly Sturbridges and Wollastons of England's Midlands with tangled Algonquin vocables, the Quabogs and Tantasquas; a collision that lends New England's thinly settled places their squalid and unsettling music (the original Podunk was a village named for a vanished Massachusetts tribe).
Supporting characters, too, seem a rattle-bag of types gathered from the pre-social media Pleistocene, greasers and girls in poodle skirts sharing the focus with leering shopkeepers and pathetic dads from 80s sitcoms. Some mention laptops and digital files, while others even say "ma" and "pa," a usage that has dwindled steadily since the Waltons said goodnight.
Up to a point, the asynchrony and alienated sense of place serve Wolff's uncanny ends. As the novel winds to a hectic and uncertain conclusion and the main characters' wonted sorceries dissolve into musky and quotidian vapors, however, this indistinctiveness provides scant support. At the beginning of the novel, Ginger wonders whether evil is a personal choice or whether it is "a floating contingency of being, like a hat that lands on one's head"; later, she concludes that "there could be no other possible explanation but witchcraft, sorcery, enchantment" for her inexplicable longings. Ultimately, however, not even magic furnishes her ready answers. As she ponders her willful shadow near the novel's close, we can't be sure whether evil is the work of its own restless minions, or merely a cap one doffs with changes in season.