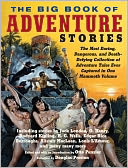 Would you like to know the definition of an adventure story?
A beautiful Sicilian princess of medieval times is sleeping on the deck of a ship–curtained from prying eyes, and surrounded by her drowsy, similarly beautiful handmaidens–when her ship is rammed by another vessel manned by traitors from her father's court intent on kidnapping her. Plunged into the sea, she swims for land, where she sets a trap for one of the pursuing conspirators. She kills the big man by snaring him and holding him underwater till he drowns. She steals his clothes and armor and sword, makes her way back to the remaining assailant's craft, rouses the surviving loyalists, disarms the second villain in a fair swordfight, declares a boastful victory, and heads for home.
Man, and you thought Lara Croft was a hard case!
Such is the plot–stripped of its relentlessly propulsive and gorgeously descriptive language–of "The Golden Snare," by Farnham Bishop and Arthur Gilchrist Brodeur, the story from a 1918 issue of Adventure magazine that editor Otto Penzler employs to launch his magnificent treasure trove of action fiction from the pulps. (Mainly from the pulps: literary chaps on the table of contents, such as Rudyard Kipling, H. G. Wells, and Jack London, found book publication more congenial. And one story, by Lester Dent, is original to this volume.) Penzler could not have chosen better. For although there is not a dull moment in any of these pages, "The Golden Snare" is compact, rapidly paced, well-wrought, surprising, and features an unconventional protagonist. Readers not hooked by this opening bait will thereby declare their drab souls unfit for the other thrills that await.
Penzler groups his stories into categories such as "Island Paradise," "Megalomania Rules," and "In Darkest Africa." The reader might wish to hopscotch through the volume, as sometimes one French Foreign Legion tale begins to resemble another overmuch. But really, the only fault you can find with this Big Book is an embarrassment of riches. There is material here enough for many, many evenings such as the one described by Douglas Preston in his introduction, recounting his first juvenile tangle with Haggard's She: "I read that passage while in bed, in my attic room, late one winter's night, the wind rattling the windowpanes. I was reading under the covers and the batteries in my flashlight were dying." Such elemental frissons are of course just what these tales will provide, given any receptivity at all on the part of the reader.
Penzler includes a few familiar favorites, such as "Leiningen Versus the Ants," "The Most Dangerous Game" and "The Man Who Would Be King." But his real service is in exhuming marvelous stories unknown to any but pulp aficionados. Discovering the devil-may-care breeziness of George F. Worts or the revenge-heavy gravitas of Frank L. Packard provides a zest beyond the mere single story. These names of prolific stars of yesteryear light the way for the reader's future explorations, ably abetted by Penzler's story setups that give bibliographic highlights.
One thing the reader will be astonished by is the high caliber of the writing in these stories ostensibly produced for the down-market hoi polloi. These authors were no ham-handed, crude Mickey Spillanes, but rather self-taught artists with superior public educations. The vocabulary and syntax of these popular tales put to shame the text in our current-day bestsellers. Try to imagine the average reader of one of our equivalent adventure writers today, Tom Clancy for instance, parsing this sentence by Robert E. Howard: "Conan stood paralyzed in the disruption of the faculties which demoralizes anyone who is confronted by an impossible negation of sanity."
Which is not to say these chaps wrote like eggheads all the time. Rather, they knew how to grab and hold their readers. There are plenty of short, choppy sentences, utterly transparent but all impeccably constructed and placed just so, alternating with more complex ones. And just to prove that the classical school has legs left, Charles Ardai steps forth with 2009's pitch-perfect "Nor Idolatry Blind the Eye."
It's hard for me to pick a favorite from these selections; after all, the book includes a complete Tarzan novel, as well as representative exploits of Hopalong Cassidy; the Cisco Kid; Sheena, Queen of the Jungle; and Zorro…just to name a few famous heroes. But "Hell Cay," the never-before-seen piece by Doc Savage's biographer, Lester Dent, is hard to beat, with its nasty villains, lovable dumb-ox hero, and a daring daughter of ne'er-do-well dead Dad. Mystery and romance, nobility and dastardliness, peril and suspense might be fled from our workaday world, but such imperishable things remain alive forever in these pages.
---

Paul Di Filippo's column The Speculator appears monthly in the Barnes & Noble Review. He is the author of several acclaimed novels and story collections, including Fractal Paisleys, Little Doors, Neutrino Drag, and Fuzzy Dice.