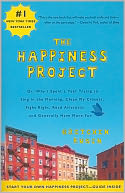 The Belgian poet, dramatist, and essayist Maurice Maeterlinck was born on this day in 1862. Though Maeterlinck won the 1911 Nobel, his writing is virtually unknown now, the one exception being his popular children's play The Blue Bird. The link between bluebirds and happiness recurs in myths and folktales around the world, and Maeterlinck was not the first to turn the search for the elusive bird into a morality tale, but his 1908 play was an immediate, enduring, multimedia hit. The climax of the story comes when the two children, returning empty-handed from their quest, find all the happiness they need living right in their own home, rarely recognized:
Let me introduce myself first: the Happiness of Being Well, at your service. I am not the prettiest, but I am the most important.… This is the Happiness of Pure Air, who is almost transparent…. Here is the Happiness of Loving one's Parents, who is clad in grey and always a little sad, because no one ever looks at him…. Here are the Happiness of the Blue Sky, who, of course, is dressed in blue, and the Happiness of the Forest, who, also of course, is clad in green: you will see him every time you go to the window….
Gretchen Rubin says that Maeterlinck's story and clear moral was the perfect inspiration for her bestseller, The Happiness Project. Rubin's subtitle, "Why I Spent a Year Trying to Sing in the Morning, Clean My Closets, Fight Right, Read Aristotle, and Generally Have More Fun," is a laundry list because she wished to find happiness even while doing laundry:
Other people's radical happiness projects, such as Henry David Thoreau's move to Walden Pond or Elizabeth Gilbert's move to Italy, India, and Indonesia, exhilarated me.… But my project wasn't like that. I was an unadventurous soul, and I didn't want to undertake that kind of extraordinary change.… And more important, I didn't want to reject my life. I wanted to change my life without changing my life, by finding more happiness in my own kitchen. I knew I wouldn't discover happiness in a faraway place or in unusual circumstances; it was right here, right now — as in the haunting play The Blue Bird….
And as you can't be too happy, Rubin's sequel, Happier at Home: Kiss More, Jump More, Abandon a Project, Read Samuel Johnson, and My Other Experiments in the Practice of Everyday Life, is due out in a few weeks.
---
Daybook is contributed by Steve King, who teaches in the English Department of Memorial University in St. John's, Newfoundland. His literary daybook began as a radio series syndicated nationally in Canada. He can be found online at todayinliterature.com.