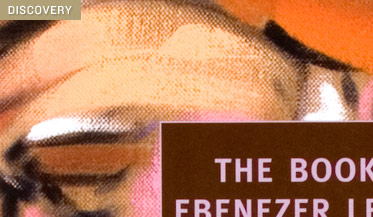 Reviewers lavish all kinds of praise on the books they like, but sometimes overlook the most important response of all — gratitude. Take fiction. Every so often there comes along a novel so good that one actually feels grateful to be alive and to have had the chance to read it. Thinking of the books I've been lucky enough to review or write about over the years, I can point to a couple of dozen in this rarefied category: Russell Hoban's Riddley Walker, James Salter's Light Years, Marilynne Robinson's Housekeeping and Gilead, Gene Wolfe's Book of the New Sun, Cormac McCarthy's Blood Meridian, John Crowley's Little, Big and Aegypt, Robertson Davies's What's Bred in the Bone, and almost everything by Steven Millhauser, Stanley Elkin, Jack Vance, and Gilbert Sorrentino.

I wish that G. B. Edwards had been as prolific as these last four. But given that The Book of Ebenezer Le Page feels semi-autobiographical, I'm not surprised that it's his only novel (though John Fowles's preface suggests that Edwards had plans for two companion volumes). Published posthumously in 1981, the book was much admired — in The New York Times, Guy Davenport acclaimed it one of the best novels of our time — but has since unaccountably dropped from our collective literary memory, except among those who have actually heard Ebenezer's wistful, crotchety voice. That voice and the story it tells are quite unforgettable.

The Book of Ebenezer Le Page takes the form of an old man's reminiscences of his life on the island of Guernsey during the first half of the 20th century. Located in the English Channel between Britain and France, Guernsey may be part of the British Commonwealth, but it maintains its own traditions and culture. Many of the families bear Gallic names — Bichard, Queripel, de Lisle, Le Page — and the older inhabitants speak a kind of French patois. If you've visited New Orleans or Montreal, you have a sense of Guernsey's distinctness and independence. Ebenezer himself writes in English and pronounces his last name to rhyme with "sage" (not "lodge"), but he occasionally uses patois with his friends and intimates. After he kisses the woman who has troubled his equanimity since childhood, he murmurs, "Je t'aime."

What happens in The Book of Ebenezer Le Page? Nothing much at all — just life. "The first thing I remember in this world is putting a penny in my money-box. I can't have been more than three or four. I earnt it for picking slugs off the cabbages. My father would give me a penny for twelve slugs and drown them. It was good money, when you come to think of it. My father was good that way."

In the first section of this three-part novel, Ebenezer gradually tells us all about his childhood and youth — the delicious taste of a shellfish called ormers, the comical rivalry between his aunts, the great day when he won the leg of mutton for climbing a greased pole at the Grand Havre Regatta, and the bond between his two cousins, the macho Horace and the sensitive Raymond. He recalls, too, the polarizing effect on everyone around her of the free-spirited Liza Queripel (the daughter of a witch), memorializes his youthful adventures with his best friend, Jim Mahy, and ends by describing Jim's disastrous marriage and the human losses from World War I.

In the middle section, Ebenezer skims through the 1920s and '30s to focus on Guernsey just before and during the long German occupation of World War II. For his grown-up cousin Raymond, a would-be preacher, marriage proves as much a nightmare as it was for Jim. After the invasion, the whole island suffers terribly between 1940 and 1945 — neighbors are arrested and shipped to camps, friends are blown up by land mines, and nearly everyone starves. The final section of The Book of Ebenezer Le Page is set in the postwar era — a time of puerile television and loud motorbikes and all the hated noise of the modern world — as the increasingly elderly Ebenezer sets about recording his life and tries to figure out who should be the heir to his house and money. He hopes to find someone with the true Guernsey spirit and fire. His eventual choice is unexpected yet proves to be just right.

As Ebenezer recalls his past, it's hard not to suspect that it must mirror that of his Guernsey-born but otherwise obscure creator, G. B. Edwards, who worked on this book until his death. Whatever the case, the gradual unfolding of the years and the passage of one generation into the next imbues The Book of Ebenezer Le Page with a strongly autumnal feel. "I can't believe that if Jim was alive now he would be an old man. He was never old. The kitchen where I ate so many meals with him was three or four times the size of ours; and there was lovely copper pots and pans on the walls, and always a big fire blazing on the hearth. I will never feel warm and happy again as long as I live, the way I used to feel those Saturday nights when I was sitting in that kitchen having a good supper with Jim." Ebenezer looks back on everyone — even those he hated — with forgiveness. "I know perhaps I'm not being fair to Horace. Well, he's gone now. He was the way he was made." And, more and more, he thinks about his own approaching end:


I have lived all my days to the sound of the bells of the Vale Church, coming to me on the wind over the water. When I was a boy I used to hear them playing a hymn of a Sunday evening, and then the quick ding-dong, ding-dong, before the service began; and I would hear them practicing of a Wednesday night. I have heard them ring out merry for weddings, and toll the big bell for funerals; but, even when they ring out for joy, they are sad, the bells of the Vale; and now I am old, when I hear them, I tremble.


As he recollects the bygone ways and people of the island, Ebenezer does remember simple moments of transcendent joy — the time he and Jim spent together trapped by the tide on a sandbar, the night he and Liza walked hand in hand along the beach, the quiet tenor of evenings passed with his widowed sister Tabitha and, later, the broken-spirited Raymond. Summarizing one happy day, he concludes: "I know it was worth being born for that." Ebenezer may describe himself as a bit of a hellion in his youth, but we know that he is as good and decent a man as any of us could ever meet.

Not that he's a saint. While he's never married, he admits to having had "it under the hedge" with various women. What's more, he reveals a Guernseyman's dislike for anyone from the rival island of Jersey; he's wary of the English and of Catholics; and he says he wasted the best years of his life waiting to marry Liza. More than once, he even suggests that women aren't quite human and are only after "your body, or your money, or a father for their children." (Considering some of the wives in this book, it's a reasonable point of view.) Mostly, though, he underscores the triviality of so much modern life:


Mind you, I am not one of those who say living on Guernsey in the good old days was a bed of roses. I think living in this world is hell on earth for most of us most of the time, it don't matter when or where we are born; but the way we used to live over here, I mean in the country parts, was more or less as it had been for many hundreds of years; and it was real….When I think what have happened to our island, I could sit down on the ground and cry.


While there is much to praise about The Book of Ebenezer Le Page — a voice so authentic you can hardly believe it to be fiction; the growing sorrow over so many lives gone unfulfilled or broken by happenstance; the muted, heartbreaking love story of Ebenezer and Liza; the quiet humor and humanity that the novel conveys throughout — it is particularly noteworthy for its portrait of masculine friendship. Ebenezer ends part one by saying, "If I rise from the dead and know who I am, it's Jim I want to meet again." He later comes to feel a similar love for Raymond and then for the young hooligan Neville Falla. Even the cousins Raymond and Horace — though radically different — are only truly happy in each other's company.

Nowadays, we would label these relationships as tacitly homosexual. Perhaps they are, though Ebenezer Le Page doesn't see them that way. He loves Jim just because he is Jim. When his friend dies, he breaks down, crying, "Jim is not in the world any more! Jim is not in the world any more!" This is the anguish of absolute and unassuageable loss. While all the main male characters succumb to women's wiles and eventually start households and beget children, their marriages and love affairs are troubled and complicated, far different from the pure joy they feel with each other. Ebenezer remains a bachelor and the laughing, self-possessed Liza never marries.

Enough. Imagine a novel that blends Thomas Hardy, Stella Gibbons's Cold Comfort Farm, and Proust — an improbable combination, no doubt, yet one that hints at the salt and humor and pathos and richness of The Book of Ebenezer Le Page. To echo the learned Guy Davenport, this is one of the best novels of our time. We should be grateful that New York Review Books has brought it back into print.