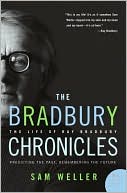 Ray Bradbury was born on this day in 1920. Bradbury wrote over 400 stories and novelettes and worked significantly in almost every other genre — poetry, children's literature, plays, teleplays and screenplays, even an "autobiographical novel" inspired by the adventure of writing one of the screenplays. Or misadventure: in Green Shadows, White Whale, Bradbury tells of being hired by John Huston to do the script for his film Moby Dick, the two living in Ireland for six months as they collaborated — or, says Bradbury, as he was tied to the mast of Huston's dominating and unpredictable personality. As Bradbury saw it, Huston was more interested in fox hunting and whiskey, and in getting his screenwriter's goat. Huston's practical jokes included a fake telegram from the Hollywood producers instructing Bradbury to work a love affair into the script; Huston's outbursts included one after-dinner argument that ended with him grabbing Bradbury by the lapels, hoisting him onto his toes, cocking his fist, and asking the other diners if he should swing.

But Bradbury's biographers put him, too, in Huston's, larger-than-life category. In his recent The Bradbury Chronicles, Sam Weller describes his first, 2000 visit to Bradbury's house, the author recovering from a stroke but still with uncontainable energy, anecdotes, memorabilia, and plans:
Each room was jammed wall-to-wall with the run-off of Ray's staggering collection of everything under the sun and the moon and, for that matter, Mars.… Virtually every flat surface, every table and chair in the house, was piled high with mountainous stacks of papers, old photographs, story starts, newspaper articles, manuscripts, and plastic milk crates holding countless files. There were toys in every room, too: Giant stuffed animals perched on sofas; tin rocket ships and windup robots waited in corners to come to mechanized life.… Part Peter Pan, part percipient sensei, this man, seventy-nine at the time, had the energy of a herd of stampeding tyrannosaurs. He was finishing two novels, a chapbook, a collection of stories, a complete collection of his poetry, as well as numerous essays and theatrical plays.
---
Daybook is contributed by Steve King, who teaches in the English Department of Memorial University in St. John's, Newfoundland. His literary daybook began as a radio series syndicated nationally in Canada. He can be found online at todayinliterature.com.