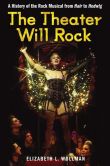 Hair opened on Broadway on this day in 1968, running for over four years; and Rent, described as "a Hair for the '90s," opened on Broadway on this day in 1996, running for over twelve years. The two shows are regarded as defining moments in the "rock musical" genre, which Hair writers James Rado and Gerome Ragni created and spoofed by describing their show as "The American Tribal Love-Rock Musical." "In those days," recalled musical director Galt MacDermot, "there was folk-rock, and this kind of rock, and that kind of rock. So they were making a joke about that [with] 'love-rock'."

If Hair offered only '60s answers to the timeless questions — "Why do I live? (beads, flowers) Why do I die? (freedom, happiness)" — it was greeted as a breath of fresh air, or at least not typically stale. "The show is the first Broadway musical in some time to have the authentic voice of today rather than the day before yesterday," wrote Clive Barnes in his opening-night review. Barnes endorsed the show for being "so likeable…so fresh and so unassuming, even in its pretensions"; but he also gave notice:
Frequent references — frequent approving references — are made to the expanding benefits of drugs. Homosexuality is not frowned upon — one boy announces that he is in love with Mick Jagger, in terms unusually frank. The American flag is not desecrated — that would be a Federal offense, wouldn't it? — but it is used in a manner that not everyone would call respectful. Christian ritual also comes in for a bad time, the authors approve enthusiastically of miscegenation, and one enterprising lyric catalogues somewhat arcane sexual practices more familiar to the pages of the Kama Sutra than The New York Times. So there — you have been warned. Oh yes, they also hand out flowers.
In The Theater Will Rock, a history of the rock musical genre, Elizabeth Wollman shows that the praise for Hair was often equivocal, with some in the counterculture and the Broadway press regarding it as an opportunistic sellout. "Sometimes Hair is disturbingly commercial," wrote a New Yorker reviewer, "the hippie turned into just another marketable commodity." The reviewer went on to note that a local store was already offering an "instant male-hippie kit, complete with wig, beads, bells, incense, etc., for $29.95."
---
Daybook is contributed by Steve King, who teaches in the English Department of Memorial University in St. John's, Newfoundland. His literary daybook began as a radio series syndicated nationally in Canada. He can be found online at todayinliterature.com.