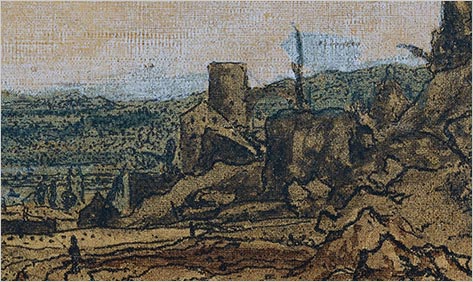 There is a library in limbo of great books by great writers never written: some mere notes, some stalled at a chapter or two, some in various pieces and drafts. For decades, the long-promised third volume of Patrick Fermor's walking trip across Europe has had a place on those ghostly shelves. This was the book that was meant to follow A Time of Gifts (1977) and Between the Woods and the Water (1986), accounts that, beginning in the fatal year 1933 and ending in January 1935, brought the eighteen- and then nineteen-year-old Fermor from the Hook of Holland to the Iron Gates, on the border of today's Serbia and Romania. Fermor had, in the early 1960s, written a version of his journey's last stage, which brought him to Constantinople (as he insisted on calling it), and he returned to it a number of times over the years. But, distracted by other affairs and tortured by writer's block, he could not complete the book, and it remained a persistent misery to him until his death at ninety-six years of age in 2011. Now, I am happy to report, travel writer and novelist Colin Thubron and Fermor's biographer, Artemis Cooper, have entered the breach to bring out what they have titled The Broken Road, the trilogy's final installment, knitted up nicely with care and discernment.

The book brings Fermor from Orşova on the Danube through parts of Rumania (then the accepted spelling for Romania), Bulgaria, and Turkey. It also includes his time in Greece, staying in monasteries on the sacred island of Mount Athos in early 1935, an account drawn from his one extant journal. As for the other journals kept during the trip, they and his richly detailed letters to his mother were lost in three separate tragedies. Fermor had to recreate the long journey from "surviving cartouches of memory," the stamps on his old passport, and his markings on a tattered map. Again and again, he laments the impossibility of recapturing the entirety of that vanished past.
Often, I must have…completely failed to remember, owing to some private defect, buildings of tremendous interest (which I would give perhaps a great deal to see now), whole mountain ranges teeming with history and with natural wonders, political trends and events of momentous importance. This last consideration prompts the thought that even after such a long time-lag, this must be one of the most unscoopiest travel accounts ever to see the light.
As it happens, the young Fermor was not especially interested in political developments, and his account only now and again touches on them, one instance being the assassination of King Alexander of Yugoslavia in October 1934. Its announcement resulted in maniacal, glass-smashing rejoicing among the Bulgarians with whom he was drinking at the time. Still, writing much later, he is sadly aware that as he traveled across Central and Eastern Europe, he was witnessing the very end of an epoch, one whose death throes began with the First World War and the dissolution of the Ottoman and Austro-Hungarian empires and whose end was marked by the obliteration and horror of the Second World War, the near extinction of the region's Jewish and Gypsy populations, and the vitiating effect of the Iron Curtain. "Nearly all the people of this book, as it turned out, were attached to trails of powder which were already invisibly burning, to explode during the next decade and a half."

The vein of melancholy that runs through this work is more than offset by a ravenous curiosity — Fermor calls himself "unboreable." The book is punctuated by eruptions of joy and filled with sparkling, eccentric descriptions and eldritch scenes of enchantment and accursedness that possess the timbre of folktales. He tells, for instance, of a long, grueling encounter with a pestilential talker who harangued him as they walked, "catching me by the elbow and prodding me with his forefinger…. Once I turned round in a circle and he danced briskly round in a wider circle still talking faster and faster. I tried to counter-attack by resolutely bawling Stormy Weather, but it was too slow. He dived in between the bars," Young Fermor tries to shake off this demon through various tricks, only to have him reappear as if by magic, the last time with such exquisite improbability that I will not spoil it for you.

Another day he makes his way across a plain suddenly invaded by four towering dust devils, "all of them whirled mopping and mowing with a loud rushing noise across the wilderness, all leaning in the same direction and appearing to gesticulate wildly with the loose ends of their fraying and widening summits…these four pillars careered across a sunset that the hanging mantle of dust refracted into a vast and tragic drama of orange and amber and blood red and violet, and came to bits in the distance."

Fermor's flair for the fantastical is everywhere evident. In Bucharest he enters a grand café, a vast, nightmarish chamber whose patrons wore "a lupine predatoriness of expression, a cynical croupier glint in every eye…. The older faces looked like allegorical masks of the Seven Deadly Sins…. I had the illusion that the talk of this gleaming and over-upholstered Babylon consisted entirely of sneers." And in the Romanian countryside, trudging along at dusk, he is struck with wonder as the Orient Express comes rocketing by, its windows charmed and glowing, its mystique overpowering: "The necklace of bright lights dwindled in the distance with its freight of runaway lovers, cabaret girls, Knights of Malta, vamps, acrobats, smugglers, papal nuncios, private detectives, lecturers in the future of the novel, millionaires, arms' manufacturers, irrigation experts and spies, leaving a mournful silence in the thirsty Rumelian plateau."

Seen through the eyes of this young wayfarer, the world is wild, exotic, and sometimes truly bizarre. He finds that the coachmen in Bucharest belong to a religious sect whose men castrate themselves after having one or two children. (They also believe that Czar Paul, murdered son of Catherine the Great, will return as the Messiah.) Lost in the countryside, he eventually finds shelter with a couple of Turks who introduce him to the "dizzily powerful" pastourma, a pemmican-like substance that gives the breath of those who have eaten it "the violence of a blowlamp…people reel backwards and leave an empty ring around the diner, as though one were whirling in incendiary parabolas."

With only a few entertainingly dismal exceptions, Fermor meets extraordinary hospitality from even the poorest peasant and enters happily, if fleetingly, into all ways of life. He strikes up impromptu friendships with everyone, from a companionable dog who engages in a furious barking attack on an insolent moon, to the British consul in Burgas — this shortly after Fermor polished off the last of his pastourma. ("I say, what have you been eating, old boy?") The book is a marvel of plenitude and generosity and joyousness of description. The editors' fine job in putting it together and the gorgeous, ebullient style of the text from which they worked have resulted in a magnificent book. It may be the afterglow of reading it, but I like The Broken Road even more than the previous two volumes.