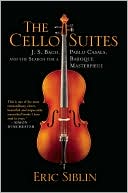 EricSiblin's cleverly dovetailed and enticingly readable investigative account ofthe famous rediscovery of J. S. Bach's masterful scores for solo cello, at thehands of Pablo Casals in the late nineteenth century, and their subsequentelevation to the consensual apex of musical beauty, puts paid to the quip(supposedly first made by comedian Martin Mull) that "writing about musicis like dancing about architecture." The image of misguided critical futility inherent in Mull's comparisonhas no place with a writer like Siblin, who can charmingly and empatheticallyconvey the sweet sounds of a live performance through the medium of black markson a white page—which, ironically, is exactly how Bach's music was firstconceived, transcribed and precariously transmitted down the centuries.
Consider this one description out of many:
ThePromethean intro quickly takes on human dimensions, adjusting the volume fromthunder to whisper, then back again. Itis a prelude of celebration and nostalgia—a sublime summing up that eventuallymoves higher, ever reaching, venturing so far that an additional string isrequired, finally achieving its summit in a frenzied dance of notes that isultimately a journey back home.
Butsuch lyrical interpretations of the wonder of Bach's music are not evenSiblin's main thrust. He braids his ownexperiences with the musical voyages of Bach and Casals into a portrait of thewild confluence of creativity, politics, ambition, and fate that mark theastonishing life of the six Cello Suites.
Sibliningenuously recounts his personal journey from pop maven to Bach fan andamateur performer with humor and insightful self-awareness. With an outsider's perspective, he has muchto say about how classical music is torpidly presented and consequentlyundervalued in today's determinedly superficial cultural landscape. In his assessment of the continuing—dare onesay "eternal"?—value of Bach's Cello Suites, he recalls suchphilosophers as Alain de Botton and de Botton's thesis that the creations ofartists of Proust's caliber—or Bach's—can anchor a meaningful life amidsttwenty-first-century chaos and flux.
Siblintruly shines in his vivid historical investigations. While this book cannot be asubstitute for full-scale biographies of either Bach or Casals, it does succeedin conjuring up each man and his milieu in sufficient depth and detail toconvey the tremors, frustrations and joys of artistic creation, and how a workof art can forge a bridge across an ocean of time. Bach's relatively short and understated,humble life of dedicated creativity amidst domestic mundanity is contrastedwith Casal's longevity and more tempestuous span of fame and celebrity andglobal wandering. But the allied spiritsof each man, subsumed by the music of the demanding Cello Suites, are revealedas harmonious and cut from the same cloth. Parallels between the tumultuous public events of the eighteenth andtwentieth centuries are teased out in subtle fashion.
Onewould be tempted to call this book perfect, save for one flaw: not a single mention of Bach's most eccentricson, P. D. Q.
-PAUL DI FILIPPO
---

Paul Di Filippo's column The Speculator appears monthly in the Barnes & Noble Review. He is the author of several acclaimed novels and story collections, including Fractal Paisleys, Little Doors, Neutrino Drag, and Fuzzy Dice.