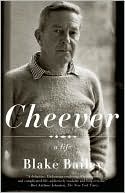 John Cheever died on this day in 1982, aged seventy, in Ossining, New York. In 1977, Cheever's Falconer was number one on the fiction lists, and the author was on the cover of Newsweek. A year later, Cheever won a Pulitzer for his 700-page retrospective collection, The Stories of John Cheever, a book regarded as an essential chronicle of middle-class America, written in a style that made its author, said critic John Leonard, "the Chekhov of the suburbs." In an obituary notice, the hometown paper found a comparison to a Russian, but not Chekhov: "Cheever was as closely associated with Ossining as Emerson with Concord, or Tolstoy with Yasnaya Polyana."

Over his last years, Cheever also seemed triumphant in his personal life. He had finally won his battle with alcoholism and kicked a two-packs-a-day habit; he had also found some accommodation for both his marriage and his bisexuality. In her 1984 memoir, Home Before Dark, Susan Cheever says that, during this final phase, "it was like having my old father back, a man whose humor and tenderness I dimly remembered from my childhood."

Cheever kept a journal for over forty years. In some entries from his last months he seems buoyant: "So I sit at the kitchen table drinking black coffee and thinking of Verdi…. And I think of what an enormous opportunity it is to be alive on this planet." Other entries describe his physical struggle to reach his typewriter and his despair at what cancer had done to "the discipline, or character, that has brought me here for so many years." Here, in descrbing a moment from a visit to the waiting room at his doctor's office, we see the writer still at work:
A woman came in from the street, a well-dressed, good-looking woman. It has seemed to me, in my long life, that all well-dressed, good-looking women share certain fundamentals. There is to such a woman's carriage, to the cut and hang of her clothing, an inimitable naturalness that is close to classical. The stranger enjoyed this. She gave the congregation a light and general smile and took off her coat and hat. She was as bald as an egg. So were at least a third of us, but her beauty dramatized her loss. It was not the baldness of this stranger that was most striking, however; it was the look of absolute victory on her face….
---
Daybook is contributed by Steve King, who teaches in the English Department of Memorial University in St. John's, Newfoundland. His literary daybook began as a radio series syndicated nationally in Canada. He can be found online at todayinliterature.com.