Inside the world of the big top, even after the tents are folded.
---
By Diana Starr Cooper
Cooper fusses lovingly over a traditional, one-ring circus in New York City, studying the wonder of its smallest moments (aerialists chalking their hands, elephants moving about) as well as the powerful feeling an audience shares with circus performers. Life in their charmed circle gets a close and revealing look.
---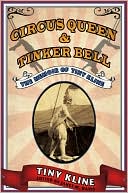 Circus Queen and Tinker Bell: The Memoir of Tiny Kline
By Tiny Kline and Janet M. Davis
Acrobat Tiny Kline spent most of her life (1891-1964) entertaining somehow, whether in the burlesque house, the traveling circus, or at Disneyland. Her fascinating tale of everyday circus life, including its sexual politics and labor relations, also chronicles the era's cultural transformation. Circus historian Davis annotates extensively throughout.
---
By Katherine Dunn
Art and Lily decide their traveling carnival needs a little juicing up. So they breed a family of freaks with the help of a few experimental drugs: meet Aqua Boy, the Siamese twins/pianists, an albino hunchback, a telekinetic boy, and a bizarrely twisted, but undeniably American family in DUnn's compelling tale.
---
By Noel Daniel
It used to be that the circus was America's biggest show-business industry. There were actual circuses to dream of running away to then — and railroads for those wannabe daredevils, showgirls, clowns, and roustabouts to ride. Daniel brings back to life a lost moment in American cultural history.
---
Under the Big Top: A Season with the Circus
By Bruce Feiler
Feiler spends a year living his childhood dream: traveling the small cities of the South and Northeast as a clown with the one-ring Clyde Beatty-Cole Bros. Circus. He comes away with a warm, thoughtful recollection of the circus characters who build a community within their gritty, unique world.