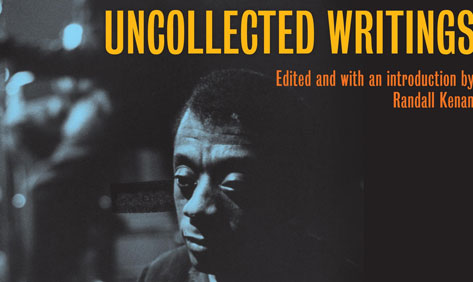 It is probably well worth collecting anything that James Baldwin wrote. Among the most naturally eloquent of all twentieth-century American writers, Baldwin published six essay collections and six novels over thirty-three years, and it would be an invigorating literary exercise to try to find the first languid sentence or inert idea in any of that output. And although, as with any writer, his reputation largely rests on a handful of particular works—mostly his magnificent essays on U.S. race relations and the lived experiences of American black men—one finds the same intensity, the same incandescence, and the same elegance in any and all of his essays.
The Cross of Redemption: Uncollected Writings brings forward fifty-five essays that few people outside of Baldwin scholars have read; it is, therefore, something we can be eagerly thankful for, and great credit is due the editor Randall Kenan (a successful novelist in his own right). Described as a "companion volume" to the Library of America edition of Baldwin's Collected Essays, Kenan's selections are in fact more than just complementary. What we have here are not b-sides to the top 40 hits of Baldwin's career, but rather the author's rehearsals of his more famous essays. And rehearsals can be just as entertaining and informing—if not moreso—than full dress performances.
Often published in smaller venues or addressed to more specialized audiences than his celebrated works, the essays, book reviews, transcribed speeches, and interviews Kenan has gathered reveal a side of Baldwin that is difficult to access through his more famous novels and essays. The author appears here as both tradesman and toiler, undertaking the grunt work necessary to make and keep a name for himself: forewords to friends' first novels, desultory book reviews, speaking engagements that provided an opportunity to network and to reinforce written ideas with the whirlwind power of his oratory. It would be inaccurate to call anything Baldwin wrote unpolished, but this collection presents a looser writer than his readers are accustomed to—one more willing to make his point with something less than optimal rigor and grace, or to practice making that point in progressively better formulations.
One encounters, then, a large amount of repetition, especially if one does in fact read The Cross of Redemption alongside the Collected Essays. Yet this creates an illuminating situation. For among Baldwin's many other virtues as an essayist is his very rare brand of contrarianism, a type which consistently surprises you not by the counter-intuitiveness of the stance he ultimately takes on an issue, but by the mental configurations he employs to get there, turning over on himself constantly like a Möbius strip of argumentation. In The Cross of Redemption, this effect is diluted by the reiterations we observe, allowing us to see some of the simpler building blocks of Baldwin's most complex strategies, as the writer's intricate trains of thought begin to dissociate into their individual elements.
This looseness, however, does not in the least diminish the power of many of the essays included, although a few are a little weak on their own and might have been helped along by a more active editorial hand. The explanatory notes about the essays' provenance and references vary widely in detail and helpfulness. A very ample note precedes the first essay on Lorraine Hansberry, for instance, but no context whatsoever is given for an essay a few pages later on the actress Geraldine Page, who is arguably less well known today. It is not a grave fault, however, as a little studious digital browsing can resolve many questions. On the other hand, in most cases no amount of Googling can retrieve the essays themselves—and there is no question many belong in print again.
It is difficult to say why neither Baldwin nor Toni Morrison, who edited the Library of America volume, saw fit to include in it or in Baldwin's original essay collections something as beautifully written as his essay on the first boxing match between Sonny Liston and Floyd Patterson from 1963, or the fierce and equally beautiful open letter Baldwin wrote to Angela Davis in 1971 in the New York Review of Books. These are wonderful recoveries even apart from their unique place in the author's career, as is the sequence of letters Baldwin wrote to his agent, also in 1963, when he was traveling in Europe and Israel, preparing for his first trip to Africa. Titled simply "Letters from a Journey," these missives were published in Harper's Magazine perhaps as a sort of promotional item for Baldwin's Another Country and The Fire Next Time. As is true for this collection as a whole, whatever the reasons for its existence, we are very lucky to have it.
---
Andrew Seal is a graduate student in American Studies at Yale University. His work has appeared at The Quarterly Conversation, The Critical Flame, and n+1. He also maintains the lit-blog Blographia Literaria (www.blographia-literaria.com).