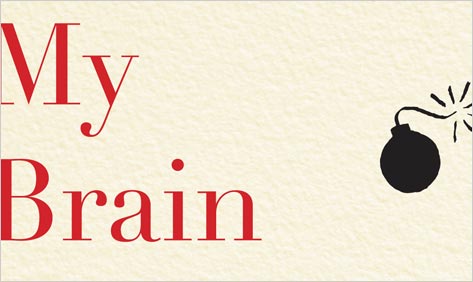 It's hard not to feel sympathy for Ashok Rajamani. In 2000, at the age of twenty-five, he suffered a cerebral hemorrhage caused by a rare congenital birth defect known as an arteriovenous malformation (AVM). An AVM is a tangle of veins and arteries that develops in a fetus's brain — there to lie quietly in wait until eventually rupturing. Rajamani's "brain explosion" flooded his head with septic fluid, and he developed meningitis; a risky surgical procedure called a craniotomy followed, to repair the damage, and the young man was hospitalized, bedridden, for three months. He had to relearn basic skills, and he still suffers complications including epilepsy and partial blindness.

Rajamani catalogs the ordeal in his first book, The Day My Brain Exploded, but unfortunately the memoir is little more than, well, a catalog of his ordeal. The chapters jump backward and forward in time, focusing primarily on the hemorrhage and its aftermath but also touching on Rajamani's isolated upbringing as part of the only Indian-American family in his suburban Illinois town and his alcohol-soaked years working as a publicist in New York City after college.

Narrating events with a conversational and at times self-deprecating tone, the author doesn't shy away from uncomfortable details, including the circumstances of the orgasm that apparently triggered the hemorrhage — which, in a cruel freak of timing, occurred on his brother's wedding day. Rajamani also recalls, with regret, his cruel treatment of his devoted mother, whom he at one low point blamed for his AVM. ("With your diseased uterus, you did this," he told her. "You are evil, destroying your own child.")

Yet the revelations in The Day My Brain Exploded don't add up to illumination, perhaps because all of the proceedings therein — whether the noteworthy experience of relearning how to walk or the mundane business of follow-up doctors' appointments — are rendered in the same flat language. Sometimes, too, Rajamani's relaxed style seems less deliberate than aimless; he'll throw out an interesting notion only to let it fizzle. For instance, he concludes a chapter on his development of epilepsy by noting, "There's a theory that St. Paul's vision at Damascus was, in fact, just a seizure. Paul, you go, boy."

It's not unusual for critics to bemoan the recent decades' seemingly unstoppable flow of confessional writing, but in the hands of a great writer even an ordinary experience can come alive with meaning. Count Rajamani among those who have lived through crises remarkable enough to secure them book deals but who lack ability to convey them in memorable prose. Readers will likely go away from this book wishing the author well, feeling glad that he survived to tell the tale — but little else.