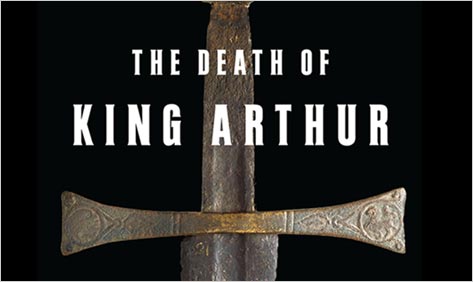 Midwinter, flickering and dark, is the time to pull up to the fire and listen to a story, savoring the word-hoard of the language. Now, with Simon Armitage's verse translation of The Death of King Arthur, we have a chance to do exactly that. We're called back to our mythic selves, plopped down in a timeless and fantastic season, where the renowned king is enjoying a bit of Christmas goodness in the company of his closest knights. But just as he's settling down for some midwinter rabbit, a visitor arrives and challenges him to fight for the far reaches of his kingdom.
The messenger is none other than an envoy of Sir Lucius, emperor of Rome. The visit is intended to throw down the gauntlet. It succeeds: the year's project is begun. The knights arm up and head out. There's little suspense in the story that unfolds — its end can be found in its title — so what follows must live in the telling. Fortunately, it does. Armitage's Arthur arrives not from the version compiled by Sir Thomas Malory in the 15th century, but from an earlier work, an alliterative version of his legend penned by an anonymous scribe. Not that this should be mistaken for a more original version of the myth than Malory's, — by the time this scribe wrote these words, written myths of King Arthur had been in the British Isles for three hundred years. This poem's language is threaded with French; the quintessentially English tale has already been rewoven in the weft of a romantic tradition.
No matter: purity or origin, like the notion of "what happens at the end," isn't the point. The point is verbal hijinks, the hap in happening, the unfurling tapestry of tale. Armitage puts a sprightly, even perhaps knightly, spring in the line — and meanwhile it's pleasing to read across the facing page, to slip back into the lovely gutterals of older English.
As soon as Christmas has passed, the knights set off to defend the kingdom, but not, of course, without stopping to slay a hulking giant — a big gruesome one, five fathoms high, who has to be carted around on a platform drawn by camels in chainmail. If that fabulous image doesn't get the imagination working, well, little will. Here's a bit in the Middle English:
His front and his forheved, all was it over
As the fell of a frosk and frakened it seemed:
Hook nebbed as a hawk, an a hore berde,
And hered to the eyen-holes with hangand browes.
Here's the beast in Armitage's remaking:
His face and forehead were flecked all over
like the features of a frog, so freckled it seemed.
He was hook beaked like a hawk, with a hoary beard,
and his eyes were overhung with hoary brows.

The language is gruesome and fecund, clamorous, pleasurable. Arthur moves on from here to Milan, to Tuscany, and at last to Rome, which his nobles conquer and hope to occupy by the next Christmas. Excalibur, ho! The rest is the stuff of legend and best left to the reading itself.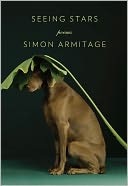 Yet even as one reads Armitage's version of this chainmail-ridden text, it's worth remembering that this year he's also put out a startling book of his own prose- poems called Seeing Stars. These too turn our current world off kilter. If giants riding camels have one's mind spinning, try these poems, which inhabit a world held together by sidelong observers. Here are the cartoonish, persuasive voices of a balloon maker, a trapped panda, a sperm whale, a grave robber. In them, a tapestry of modern life emerges, but refracted as if through a watery prism. "Sometimes I vomit large chunks of ambergris," says the sperm whale, before continuing, "My brother, Jeff, owns a camping store and outdoor clothing shop in the Lake District and is a recreational user of cannabis."
In their own way, these poems, always rueful, reminded me of a contemporary Canterbury Tales, a series of fables in which citizens both claim and mock their world. "Don't be taken in by the dolphins," continues the whale. "They are the pickpockets of the ocean, the gypsy children of the open waters, and they are laughing all the way to Atlantis." Maybe we should laugh our way to Atlantis too, and maybe these poems unfetter us a little to do just that. No less than the anonymous scribe whose tracks he's followed to recapture King Arthur, Armitage finds a way to weave myths for our own time, to lull us into dreaming, before baffling us awake again.