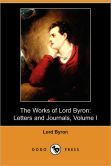 Lord Byron died in Missolonghi, Greece, on this day in 1824. Though his last days were confused and feverish, Byron was clear on several points: "Let not my body be hacked, or be sent to England…. Lay me in the first corner without pomp or nonsense." But neither hacking, nor shipping, nor pomp and nonsense proved escapable. When the reassembled body (minus lungs gifted to the citizens of Missolonghi and identifiable after pickled transport only by its clubfoot) arrived in London ten weeks later, it was refused burial in Westminster and St. Paul's, and denied any kind of official honor. The press paid high tribute and the public wept, but high society felt so compromised by Byron's "League of Incest" reputation and his revolutionary politics that they chose to both go and not go to the funeral. Thus, on its procession through London, the first stage of a four-day trip to the family church in Nottinghamshire, the coach-and-six that carried the casket with Byron's body and the urns with his inner organs was observed by hordes but followed by forty-seven mostly empty carriages,.
Byron, too, felt that his last months had been an almost empty gesture. When he embarked for Greece from Italy the previous summer, it was with the hope that his name, money, and idealism would somehow assist the Greek revolutionary struggle. If he believed himself to be "on a fool's errand from the outset," the "commander in chief of Western Greece" was even more disillusioned after six rainy months spent in limbo on one of the out-islands. Few wanted anything more than the money, and the biographers report that many, from his teenage page/lover to his personal army to the provisional government, got a lot of it. By the end, Byron had to stop writing in his journal in order to spare himself his observations on the fiasco. His last entry, three months before his death, is followed by a poem expressing unrequited love (for the Greek page), complete despair, and the hope of a worthy, quick end:
If thou regrett'st thy youth, why live?

The land of honourable death

Is here: — up to the field, and give

Away thy breath!

Seek out — less often sought than found —

A soldier's grave, for thee the best;

Then look around, and choose thy ground,

And take thy rest.
---
Daybook is contributed by Steve King, who teaches in the English Department of Memorial University in St. John's, Newfoundland. His literary daybook began as a radio series syndicated nationally in Canada. He can be found online at todayinliterature.com.