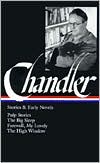 February 6: On this day in 1939, Raymond Chandler's The Big Sleep was published. Chandler was fifty-one, an ex-oil company executive who had taken up writing at the age of forty-five, after being fired for alcohol-inspired absenteeism. Over the previous five years he had published enough crime stories in the pulp magazines to survive, but this was his first novel, the first of seven featuring the much-copied and ever-inimitable Philip Marlowe. Marlowe's first words, to the first of so many women, greet Carmen Sternwood, a fatale with tawny hair, slate-gray eyes and "predatory teeth, as white as fresh orange pith":
"Tall, aren't you?" she said.

"I didn't mean to be."

Her eyes rounded. She was puzzled. She was thinking. I could see, even on that short acquaintance, that thinking was always going to be a bother to her.
Readers would only ever get bits and pieces of Marlowe's past. To General Sternwood, Marlowe describes himself as a thirty-three-year-old who "went to college once and can still speak English if there's any demand for it." Chandler lived and went to school in England; as one of the boys in Marlowe House, Dulwich College, he must have learned a lot about Elizabethan tavern-brawler and sometime-spy, Christopher Marlowe (some say that he was born on this day in 1564, though the only reliable date is his Feb. 26th christening). Chandler, too, had his problems with alcohol: "I'm an occasional drinker, the kind of guy who goes out for a beer and wakes up in Singapore with a full beard."
At the end of The Big Sleep, Marlowe chooses not to wake up with Carmen — "She was in my bed—naked. I threw her out on her ear." Then he confronts the older, more tempting Vivian Sternwood for the last time, and with the smoking gun:
I stood up and took the smoking cigarette from between her fingers and killed it in the ashtray. Then I took Carmen's little gun out of my pocket and laid it carefully, with exaggerated care, on her white satin knee. I balanced it there, and stepped back with my head on one side like a window-dresser getting the effect of a new twist of scarf around a dummy's neck….
---
Daybook is contributed by Steve King, who teaches in the English Department of Memorial University in St. John's, Newfoundland. His literary daybook began as a radio series syndicated nationally in Canada. He can be found online at todayinliterature.com.