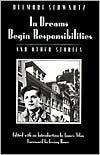 Delmore Schwartz died on this day in 1966, aged fifty-two. Despite his escalating personal problems and erratic behavior, Schwartz continued to receive critical praise, teaching appointments, and prestigious awards during his last half-dozen years. He won the Bollingen Poetry Prize in 1960 (the youngest to receive it), and he was one of the handful of poets invited to JFK's inauguration (though he moved around so much that the letter arrived four months too late). He also continued to get or to be offered help from friends, students, and fellow writers (John Berryman, Robert Lowell, Saul Bellow, and others). But nothing or no one seemed capable of combating the effects of Schwartz's accelerated drug and alcohol abuse, his mental problems, and his apparent resolve: "Into the Destructive element…that is the way," said one reminder written on a bank-deposit envelope found in his hotel room after his death. "They ruin you," Schwartz said of his psychiatrists, "they iron you out and there's nothing left but to fold."

Alfred Kazin recalled visiting Schwartz in the late 1950s, the "Mozart of conversation" (Saul Bellow in Humboldt's Gift) reduced to rambling monologues delivered at the White Horse Tavern, or to no one at home:
He sat in his squalid little box of a room on Greenwich Avenue.… It was the kind of room that could have been chosen only by someone with an extraordinary knowledge of all the murderously bad rooms put aside and carefully preserved by the heartless state for poets to die in.… It needed remarkable self-knowledge, long practice in disaster, even to discover a room like that. And there he was, buried alive up to his fine eyes in 'betrayal,'…as he twisted and spat in the rage of his unhappiness.
Over his last months Schwartz was sighted on this or that park bench, or going in or out of some bar, but few knew the name of his last cheap hotel. When he had a heart attack there–at 3 a.m., taking out the garbage–he lay dying in the corridor for an hour, and then lay in the morgue for three days, his death unknown and his body unclaimed.
---
Daybook is contributed by Steve King, who teaches in the English Department of Memorial University in St. John's, Newfoundland. His literary daybook began as a radio series syndicated nationally in Canada. He can be found online at todayinliterature.com.