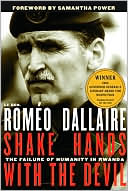 The Rwandan Genocide began on this day in 1994, triggered by the assassination of Rwandan president Juvénal Habyarimana and Burundian president Cyprien Ntaryamira, their plane shot down as it approached Kigali, Rwanda. What happened next, during the three months when Hutu-Tutsi enmity erupted to destroy 20 percent of the population, is chronicled in Shake Hands with the Devil, the award-winning memoir by Canadian Lieutenant-General Romeo Dallaire, the commander of the UN peacekeeping forces in Rwanda. Dallaire makes clear from the start that his book is partly an indictment:
Although strong relationships were built and moral, ethical and courageous behavior were often displayed, they were overshadowed by one of the fastest, most efficient, most evident genocides in recent history. In just one hundred days over 800,000 innocent Rwandan men, women and children were brutally murdered while the developed world, impassive and apparently unperturbed, sat back and watched the unfolding apocalypse or simply changed channels.
But Shake Hands with the Devil is also an attempt to expiate, and to meet head-on the demons that for years afterward pursued Dallaire to the brink of suicide. In his introductory chapter, Dalliare describes meeting a lost, apparently abandoned Rwandan child on a country road one day — following him over rotting corpses and abandoned huts, scooping him up, determined despite regulations to take him back to Canada and adopt him. The child is yanked from Dallaire's arms by a boy soldier from the Rwandan Patriotic Front; the two vanish, and Dallaire is left with nothing but his good intentions:
That moment, when the boy, in the arms of a soldier young enough to be his brother, was swallowed whole by the forest, haunts me.… It's been almost nine years since I left Rwanda, but as I write this, the sounds, smells and colours come flooding back in digital clarity. It's as if someone has sliced open my brain and grafted this horror called Rwanda frame by blood-soaked frame directly on my cortex. I could not forget if I wanted to. For many of these years, I have yearned to return to Rwanda and disappear into the blue-green hills with my ghosts. A simple pilgrim seeking forgiveness and pardon. But as I slowly begin to piece my life back together, I know the time has come for me to make a more difficult pilgrimage: to travel back through all those terrible memories and retrieve my soul.
---
Daybook is contributed by Steve King, who teaches in the English Department of Memorial University in St. John's, Newfoundland. His literary daybook began as a radio series syndicated nationally in Canada. He can be found online at todayinliterature.com.