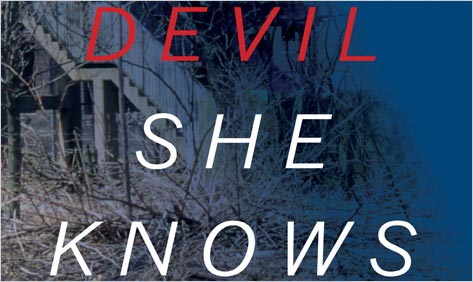 Any crime writer who pins his heroine to the railroad tracks these days risks ridicule. Yet Bill Loehfelm, in The Devil She Knows, gets away with it. "Over her shoulder, the iron rails hummed like a giant tuning fork," he writes. As the train approaches, the villain snarls, "You're tiny, Irish, and a woman. You never had a chance." Loehfelm has, however, drawn us so completely into the Staten Island world of waitress Maureen Coughlin that even this melodramatic climax seems oddly convincing. Where else would Maureen wind up, having taken on the depraved and powerful?
"You do whatever you want," Maureen tells her nemesis early on,"…And I'm nobody, nothing, invisible. The dull background music to everyone else's exciting life." She is holding a switchblade to the tough guy's cheek as she says this, but still, she is right. Dullness and exhaustion permeate every page of The Devil She Knows. Here bartenders, waitresses, cops, and criminals work the night shift and see everything. "She'd witnessed more public sex, in cars, in alleyways, in bathrooms and broom closets than, at the rate she was going, she might ever have over the rest of her life," Maureen realizes.
Almost thirty and working in bars since she was eighteen, she is nonetheless shocked one night to stumble on a coworker performing sexually for Sebastian, a local gangster/security tycoon. Sebastian is running for state senator–and he knows what Maureen has seen. It will take more than booze and coke, her usual home remedies, to face down a threat that soon turns deadly. "You're on your own, same as the rest of us," Maureen tells her sleazy boss, who also has reason to fear Sebastian. But when the first murder victim surfaces, Maureen turns for help to a bar manager she trusts and, warily, to a jaded cop. "Waters carried his weight evenly if not without effort," she notices, "like he was made of wet cement spread over a steel frame."
Waters knows Sebastian because Sebastian was once a cop. He also remembers Maureen as a child whose father went missing. But should Maureen trust Waters now? Should she trust anyone but herself and perhaps her wine-soaked mother? Loehfelm deftly steers his trim plot on this undercurrent of doubt and unease. In restrained increments–and in one shocking scene–he reveals the extent and depravity of Sebastian's enterprise and the appalling risk that Maureen has taken by defying him. She is Loehfelm's finest creation (after the acclaimed novels Fresh Kills and Bloodroot), and the reality we see through her eyes is stark and immediate. "The smoggy bustle of Bay Street traffic rattled by on her left, passing cars swirling paper napkins and potato-chip bags around her ankles," Loehfelm writes. "On her right, the humpbacked bruise-colored bay stretched wide from the black pilings of the Staten Island piers to the feet of Manhattan's silver towers." A happy ending seems as unreachable as Manhattan, but here again Loehfelm surprises us with something almost as enchanting.