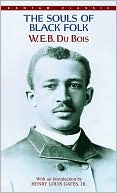 February 23: W. E. B. Du Bois was born on this day in 1868. In The Souls of Black Folk (1903), a cornerstone document inAfrican-American history, Du Bois takes issue with those contemporaries whoadvocated a patient approach to racial equality. Prominent in this group wasBooker T. Washington, who believed that "it is the duty of the Negro . . .to deport himself modestly in regard of political claims, depending upon theslow but sure influences that proceed from the possessions of property,intelligence, and high character for the full recognition of his politicalrights." To advance his slow-change approach, Washington wanted youngAfrican-Americans to learn a useful trade; the highly educatedDu Bois bristled at the idea of setting such limits:
I sit with Shakespeare andhe winces not. Across the color line I move arm in arm with Balzac and Dumas,where smiling men and welcoming women glide in gilded halls. From out the cavesof evening that swing between the strong-limbed earth and the tracery of thestars, I summon Aristotle and Aurelius and what soul I will, and they come allgraciously with no scorn nor condescension. So, wed with Truth, I dwell abovethe Veil. Is this the life you grudge us, O knightly America? Is this the lifeyou long to change into the dull red hideousness of Georgia? Are you so afraidlest peering from this high Pisgah, between Philistine and Amalekite, we sightthe Promised Land?
Biographer David Levering Lewis writes that Du Bois "attemptedvirtually every possible solution to the problem of twentieth-centuryracism—scholarship, propaganda, integration, national self-determination, humanrights, cultural and economic separatism, politics, international communism,expatriation, third world solidarity." This list omits fiction, unless Dark Princess, Du Bois's 1928 romantic novel, is placed in Lewis's"propaganda" category. Most contemporary reviewers noted the book's "oldwhite-hot indignation against racial oppression," while noting the "flamboyantand unconvincing" plot. This turns upon the protagonist's involvement in "awidespread and carefully planned uprising of American blacks," beginningwith the derailment of a trainload of KKK delegates.
---
Daybook is contributed by Steve King, who teaches in the English Department of Memorial University in St. John's, Newfoundland. His literary daybook began as a radio series syndicated nationally in Canada. He can be found online at todayinliterature.com.