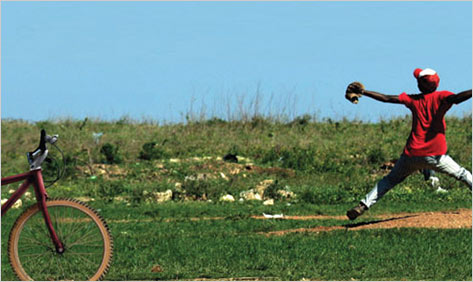 In 1960, the U.S. government began an embargo against Cuba; five year later, Major League Baseball instituted the amateur draft. As Mark Kurlansky points out in The Eastern Stars: How Baseball Changed the Dominican Town of San Pedro de Macorís, these two decisions helped make the Dominican Republic — a small country that until 1956 had not produced a single Major League player — the world's greatest per capita source of Major Leaguers. Dominican players became baseball's biggest bargain; last year, one in every ten Major Leaguers was Dominican.
The story of Dominican baseball is complex and fascinating, a tale involving, among many other things, colonialism, macroeconomics, and incredible athletes. Kurlansky tries to narrow his focus to a single town, San Pedro de Macorís, known as a city of shortstops (and once known, Kurlansky notes, as a city of poets). This conceit doesn't quite work as intended. With the frame so restricted, we lose sight of more panoramic views, among them baseball's history in the country, and the history of the island itself. One catches glimpses of a single, compelling narrative of a people and a game that never quite emerges in Kurlansky's book.
The reader does, however, encounter some wonderful characters: Ozzie Virgil, Sr., the first Dominican Major Leaguer — and the first black player on the Detroit Tigers; Rico Carty, a batting champion beaten by Atlanta cops in 1971 in a racially charged incident and elected mayor of San Pedro de Macorís in 1994. More famously, there's Sammy Sosa, apparently an equivocal figure in his native country even before the steroid revelations. Today's players, of course, continue the story of Dominican baseball; The Eastern Stars makes one look forward to the next telling of the tale.