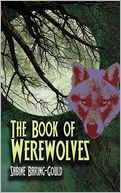 Reverend Sabine Baring-Gould died on this day in 1924; the featured hymns at his funeral several days later were two of his most famous compositions, "Onward Christian Soldiers" and "Now the Day Is Over." Baring-Gould was also a prolific English novelist and antiquarian scholar, with a bibliography running to some 1,200 items. His research topics range from folk songs to saints to ghosts, and his Book of Were-Wolves, regarded as a classic text of lycanthropy, is still in print. "I have no chained were-wolf before me which I may sketch," says Baring-Gould, but the creature once roamed widely and may lurk still:
[T]he werewolf has left his stamp on classic antiquity, he has trodden deep in Northern snows, has ridden rough-shod over the mediævals, and has howled amongst Oriental sepulchres. He belonged to a bad breed, and we are quite content to be freed from him and his kindred, the vampire and the ghoul. Yet who knows! We may be a little too hasty in concluding that he is extinct. He may still prowl in Abyssinian forests, range still over Asiatic steppes, and be found howling dismally in some padded room of a Hanwell or a Bedlam.
Some describe Reverend Baring-Gould as eccentric, until they read his biography of the Reverend Robert Stephen Hawker, the poet-parson of Norwenstow, Cornwall. Parson Hawker had a pet pig; he excommunicated his cats for mousing on Sundays; his practical jokes included dressing up as a mermaid, painting the doctor's horse to look like a zebra, and sending coffin makers to the homes of elderly parishioners to measure them up. He eschewed the traditional black habit for a pink hat, a yellow poncho, and hip waders. At age nineteen he married a forty-year-old; at sixty, he married a twenty-year-old. (Baring-Gould's marriage was also unusual: he met his wife when he was thirty-four and she was an illiterate, sixteen-year-old factory girl; their romance and marriage — forty-eight years, fifteen children — is said to be inspiration for George Bernard Shaw's Pygmalion.)

Reverend Hawker's most famous pastime was to sit in the seaside hut he built out of driftwood and shipwrecks, smoking opium and writing poetry. Tennyson once visited the poet-parson at "Hawker's Hut"; the building is now a National Trust site and a recommended stop in Ben le Vay's Eccentric Britain, a barmy-lover's travel guide.
---
Daybook is contributed by Steve King, who teaches in the English Department of Memorial University in St. John's, Newfoundland. His literary daybook began as a radio series syndicated nationally in Canada. He can be found online at todayinliterature.com.