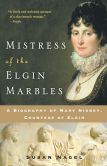 Panathenaea, regarded as the most important festival of ancient Athens, was celebrated in mid-August — beginning on August 8th according to some calculations. The festival featured Olympics-style athletic events and prestigious competitions in music and poetry, but the highlight was the closing pageant, as depicted in the Elgin Marbles, the 177-foot section of the original Parthenon frieze that was carted off to England in the early 1800s.

Lord Byron was on board the last shipload of treasures to be taken. Not one to miss an opportunity to be pro-Greece or anti-England, he entered the debate over Lord Elgin's looting/preservation of the Parthenon in a number of poems. These lines are from "Childe Harold's Pilgrimage":
Dull is the eye that will not weep to see
Thy walls defac'd, thy mouldering shrines remov'd
By British hands, which it had best behov'd
To guard those relics ne'er to be restor'd.
Curst be the hour when from their isle they rov'd,
And once again thy hopeless bosom gor'd,
And snatch'd thy shrinking Gods
to northern climes abhorr'd.
Returning to the theme in "The Curse of Minerva," Byron has the Goddess turn Elgin himself to stone and then ransack England. According to Susan Nagel's recent biography, Mistress of the Elgin Marbles, Byron might have extended the curse to Mary Nisbet, countess of Elgin and a key player in her husband's controversial crate-ship-sell scheme. Nisbet and Elgin had recently married; it was her fortune that funded the work, and her hands-on management that got the marbles to England while her diplomat husband was out and about in Greece. Nisbet and Elgin would eventually divorce, generating a messy public scandal, but their joint project in Athens, argues Nagel, was driven by love rather than cash:
Elgin's own reason for collecting the artifacts was that he had an intellectual and visceral passion for these timeless treasures. He felt that by bringing the great works of art to Britain, he was rescuing history, and instead of leaving them to wither and disintegrate, uncared for, he was serving mankind.… That was certainly a romantic notion, and he appeared to be a very romantic figure, a weathered warrior for Britain, slings and arrows to his reputation, health, and appearance. Mary's reason was simple: the Elgin marbles were sailing home because one young determined woman adored her husband.
---
Daybook is contributed by Steve King, who teaches in the English Department of Memorial University in St. John's, Newfoundland. His literary daybook began as a radio series syndicated nationally in Canada. He can be found online at todayinliterature.com.