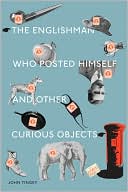 When every other day brings a headline detailing some unprecedented andunfathomable event of earth-shaking import, it's easy enough to miss notice ofthe lesser revolutions. Thus, ultramodern citizens who focus exclusively onelectronic means of communication might have failed to note the recentepoch-shattering news that the British government intends to sell off its RoyalMail Service. A government institution since 1516, when Henry VIII establishedthe office of "Master of the Posts," the vaunted and legendaryservice will now become a branch of Wal-Mart perhaps, or an arm of the MurdochEmpire. And of course the US Postal System is plainly headed for an identicalseverance from Federal sponsorship.
This is very sad news for those of us—myself included—who continue toemploy the mails for the whimsical purpose of committing art. Decorating ourenvelopes and posting bizarre objects, we get a kick out of utilizing asober-sided, far-flung governmental system for something other than deliveringtax bills and jury-duty notices. Always a tiny, eccentric group, we are thebright daisies in a field of soybeans. So to speak.
One outstanding member of our clan, the Englishman W. R. Bray(1879-1939), who is in all likelihood the founder of the discipline of mailart,is surely spinning in his grave at these changes. But his spirit may beassuaged by the loving attention given to him and his career by eruditephilatelist John Tingey, who has delivered a handsomely designed andillustrated biography.
Like some un-sleazy Henry Darger, Bray was a superficially normal andunexceptional individual with a weird artistic hobby. Bray found his bliss intesting the limits of the Royal Mail, addressing his postcards and letters withrebuses, and mailing ungainly, unpackaged items such as onions and live animalsand even himself! Gradually exhausting all such creative postal avenues, heeventually settled on collecting autographs by mail, amassing a repository ofover thirty thousand signatures. He achieved a slight fame while alive, thenpassed into utter obscurity, his vast collection dispersed. Tingey's chanceencounter with some collectible samples of Bray's oeuvre, followed byprodigious research and contact with Bray's descendants, have resulted in avolume which will surely fascinate any fans of quirky social history, anyadmirers of the unpredictable human spirit, and any curators of the oddercorners of the art world. The book is simply a delight.
Fantasy author James Blaylock once wrote a story, "ThirteenPhantasms," in which the protagonist succeeds in mailing himself back intime, to his beloved 1930s. Surely Blaylock was unknowingly channeling thespirit of Bray, who would have endorsed such a whimsical conceit.
–PAUL DI FILIPPO
---

Paul Di Filippo's column The Speculator appears monthly in the Barnes & Noble Review. He is the author of several acclaimed novels and story collections, including Fractal Paisleys, Little Doors, Neutrino Drag, and Fuzzy Dice.