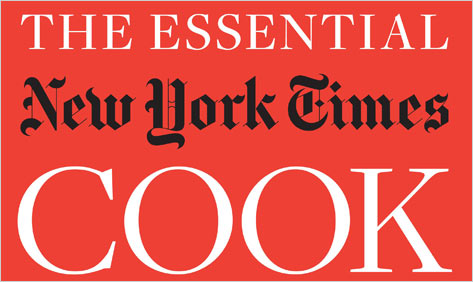 While many of its recipes areladen with heavy cream and butter, the richest ingredient in Amanda Hesser'swonderful new compendium—culledfrom 150 years of NewYork Times food columns—isher delightfully personable voice, which readers have come to love in herprevious books, Cookingfor Mr. Latte and TheCook and the Gardener,herfood stories for The Times, and her blog,Food52.com. "DidI mention that it would notbe an update of Claiborne's book?" she writes in her introduction,referring to the cookbook on which many of us cut our culinary teeth, CraigClaiborne's TheNew York Times Cookbook, first published in1961 and still in print.
TheEssential New York Times Cookbook is a rarity amongcookbooks, both useful and entertaining—"a kind of 150-yearflip book of American cooking," as Hesser puts it, complete withfascinating timelines of culinary trends. "Poring through the archivesreminded me that food is like fashion, a business of recycling andtweaking," she comments. Her entry for soups in the 1880s reads, "Ifyou are a clam or a lobster, there is a strong chance you'll end up in chowderor bisque."
Hesseris wonderfully opinionated.Youmay not always agree with her, but you'll know where she stands. Shedeclares the first 40 years of the 20thcentury "a culinary abyss" and remarks of the 1940s and '50s,"ifyou could taste some of the recipes I made from this era, you would see that Iam saving you from a world of hurt." Defending her decision to excludepostwar recipes like bacon and peanut butter canapés, she reminds us,"This is a cookbook, not Madame Tussaud's."
Whatdoes make the cut, after Hesser's marathon testing, are more than 1,000 recipes, both basicsand "whoppingly time-consuming" projects,arranged chronologically within each category (cocktails, soups, salads,chicken, etc., through desserts). What you won't find areluscious photographs: no food porn here, just tried-and-true recipes placed inhistorical context with witty commentary. Yet a commitment to qualityingredients is on display as well. The headnote to a 2001 recipe for PorkBraised in Milk and Cream (a sort of Kosher nightmare), reads, "Commercialpork loin has become so lean that it's not worth your time cooking it.Onlymake this dish if you can get your hands on a pork loin from a small farm raisingnice plump heritage pigs." As for that milk andcream, don't even think of substituting reduced fat versions.
Old favorites include MaryLincoln's Horseradish Sauce from 1897, "presumably conceived before shelost her mind," Claiborne's blender Salmon Mousse from 1961, James Beard'sChicken with 40 Cloves of Garlic from 1997, and an easy, eggless, butterlesscocoa Amazon Cake from 2002, about which Hesser comments, "Will it be the best cake ever? No.Butit will be very good and it will be homemade."
We'vehad a spectacularly gluttonous couple of weeks chez McAlpin digging intoseveral of the dozens of recipes I've flagged, including Watermelon Gazpacho whipped up in ablender; a Sausage, Bean and Corn Stew perfect for late summer or early fall;Chicken with Sour Cream, Lemon Juice and Mango Chutney, which Hesser's husbandmade on an early date; Pierre Hermé's amazing Chocolate Sablés; and the PurplePlum Torte that's both the most requested and most often published recipe inthe Times archives. They're all keepers—asis this utterly delectable book.