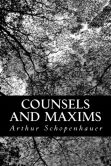 Arthur Schopenhauer was born on this day in 1788. The following is from the "General Rules" chapter of Counsels and Maxims – one of many passages that could be chosen to illustrate why some dub Schopenhauer the "philosopher of pessimism":
Most of the glories of the world are mere outward show, like the scenes on a stage: there is nothing real about them. Ships festooned and hung with pennants, firing of cannon, illuminations, beating of drums and blowing of trumpets, shouting and applauding — these are all the outward sign, the pretense and suggestion, — as it were the hieroglyphic, — of joy: but just there, joy is, as a rule, not to be found; it is the only guest who has declined to be present at the festival.
In The Schopenhauer Cure, one of Irvin D. Yalom's "teaching novels" (the others are The Spinoza Problem and When Nietzsche Wept), Schopenhauer's views on what life can and cannot offer are used as guideposts for a man with terminal cancer and for those others in his therapy group who are asking similar, tough questions: "Everywhere she looked, there was renunciation, sacrifice, limitation, and resignation. Whatever happened to life? To joy, expansion, passion, carpe diem?"
---
Daybook is contributed by Steve King, who teaches in the English Department of Memorial University in St. John's, Newfoundland. His literary daybook began as a radio series syndicated nationally in Canada. He can be found online at todayinliterature.com.