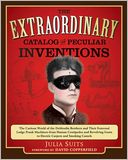 Perhaps you have marveled at nineteenth-century photographs of an anthropological bent. Shots depicting proud and exotic Native Americans, such as those found in the work of William Prettyman and other frontier photographers. Or the heart-breaking slum photographs of Jacob Riis. They represent a vanished era of strange customs and peoples, unknowable and forever removed from today's consensus reality.
But no amount of prior study or imaginative mental time-travel can prepare the reader for the outré and unsettling sights to be found in Julia Suits's The Extraordinary Catalog of Peculiar Inventions. Burly, topless businessmen clad in hula skirts and ankle bells. Blindfolded clerks riding a Satan's Derby's worth of mechanical goats. Regally crowned shopkeepers plummeting down trick staircases. Farmers committing suicide by cannonball. The mind reels, as these uncanny vestiges of an extinct realm tease our wits and senses with devilish confusion. Chaos reigns supreme!
What is this bizarre antique land to which Suits has opened the rusty gates? Nothing but the milieu of fraternal lodges, circa 1895 to 1930, a leisure-time avocation which once claimed nearly forty percent of American males. When not tending to their serious affairs, these lodge brothers were playing pranks on newbies. And the gold standard for all their "side degree" apparatus was the DeMoulin Brothers catalog.
Located in Greenville, Illinois, and run familially by Ras, U. S. and Ed DeMoulin, this company specialized in all the costumes and gadgetry necessary to ensure nights of crude, rude, and sometimes dangerous hilarity for members of the Odd Fellows, Knights of Pythias, Red Men, and Modern Woodmen, among other orders. Once widespread, but now long forgotten, their offerings have been thoroughly researched by Suits and presented zestily with plenty of historical documentation and graphical attractiveness.
The devices range from the simplistic (self-paddling contraptions) to the elaborate (an innocuous altar concealing a pop-up, glow-eyed, water-spraying skeleton and electrical shock mat). Yet they all speak to the primal desire to trick and surprise, and the similarly atavistic survival instincts against falling, being slapped, touching unpleasant things, etc. Incredibly enough, sharing these lopsided rituals of dominance and subservience resulted in camaraderie. Ultimately, these lodge guys were no different than the Jackass crew — but their antique charm enraptures the postmodern eye in a way that coarser japes do not.
Of course, all this material is rife with fascinating subtext about the culture of the times — subliminated homosexuality included. Special coal shovels that go off with a loud "bang" when contact with posteriors are made? No Freud necessary to unriddle that one! And when you could buy costumes designated "Dutchman," "Jew," "Irishman" or "Mohammedan," you know that political correctness was not a trending topic. But a certain universal wacky appeal and innocence still shines forth.
Ralph Kramden and Ed Norton attending the Raccoon Lodge. Stan Laurel and Oliver Hardy as Sons of the Desert. Homer Simpson leading the Stonecutters. The legacy of the DeMoulins lives on long beyond the demise of their irreverent firm. But where, oh where, can one lay their hands on a quality Exploding Pie Table these days?
---

Paul Di Filippo's column The Speculator appears monthly in the Barnes & Noble Review. He is the author of several acclaimed novels and story collections, including Fractal Paisleys, Little Doors, Neutrino Drag, and Fuzzy Dice.