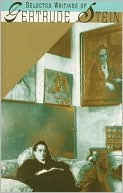 February 3: Gertrude Stein was born on this day in 1874, in Allegheny, Pennsylvania, now a part of Pittsburgh. The Stein family left for Europe three years later, and then settled in California when they returned to America in 1879. Asked by her hometown in 1935 to contribute a few words to an upcoming newspaper article entitled "What the World Thinks of Pittsburgh," Stein responded through Alice B. Toklas with the following couplet: "I only saw it from the air so what can I / say except that I was born in Alleghany."
Perhaps the spelling mistake ("Alleghany" for Allegheny) was a Toklas error; perhaps it was to make a rhyme; perhaps it was payback for an Allegheny newspaper article published in 1934, just a few months after The Autobiography of Alice B. Toklas made Stein famous, and a few months before she was front-page news for her lecture tour of the U.S. Showing no favoritism, the hometown newspaper article gave Stein the usual sort of bashing:
An inmate of the same literary reformatory with James Joyce of Ulysses fame and T. S. Eliot, Miss Stein turned out reams of work before she finally came out, last year, with a book somebody could understand….
The article went on to include a version of a ditty that was making the rounds, reprinted even in Time magazine. This broadened the target to the modern age in general, linking what Stein was doing to language to what controversial sculptor Jacob Epstein was doing to art to what Albert Einstein was doing to everything:
I don't like the family Stein,

There is Gert, there is Ep, there is Ein:

Gert's poems are bunk,

Ep's statues are junk,

And nobody understands Ein.
Whether hardened or oblivious to such treatment, Stein did not seem to mind. In the first sentence of The Geographical History of America, published two years after her lecture tour, she seems proud to be American, though not just any American: "In the month of February were born Washington, Lincoln and I…." A few sentences later we get one of the more famous Steinisms, this perhaps a jab at her homeland critics after all: "In the United States there is more space where nobody is than where anybody is. This is what makes America what it is."
---
Daybook is contributed by Steve King, who teaches in the English Department of Memorial University in St. John's, Newfoundland. His literary daybook began as a radio series syndicated nationally in Canada. He can be found online at todayinliterature.com.