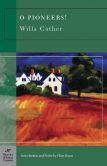 Daniel Freeman, a Nebraskan physician-farmer, filed the first homestead claim on this day in 1863, the first day that America's 1862 Homestead Act took effect. Five years later, having successfully "proved up" — building the required 12×14 home, farming the 160 acres, paying the $18 paperwork fee — Freeman got title to his land.

Freeman and his wife, Agnes, are today honored at the Homestead National Monument of America, situated outside Beatrice, Nebraska, on the site of Freeman's first homestead. Also on the site is Freeman School, which deserves almost as central a place in American history as the homesteader movement. It is not clear whether the schoolhouse was named after Daniel Freeman, but he was the plaintiff in a landmark court ruling arising from a clash over religious instruction at the school. Freeman apparently was determined to have his own beliefs as well as his own land, and when he discovered in 1899 that the teacher in the local school was including Bible readings and hymns in the curriculum, he asked for it to stop. The case eventually went to the Nebraska Supreme Court, which ruled in favor of Freeman based on the constitutional principle of church-state separation.

Willa Cather's O Pioneers! has the same Nebraska setting and a similar clash of strong wills. In the early passage below, the immigrant homesteader John Bergson, now on his deathbed, reflects on his struggles. He had come to America with "the Old-World belief that land, in itself, is desirable," but he had found the prairie stubborn, "like a horse that no one knows how to break to harness"; he now wonders if his children will build or give up on his modest accomplishments:
In eleven long years John Bergson had made but little impression upon the wild land he had come to tame. It was still a wild thing that had its ugly moods; and no one knew when they were likely to come, or why. Mischance hung over it. Its Genius was unfriendly to man. The sick man was feeling this as he lay looking out of the window, after the doctor had left him…. There it lay outside his door, the same land, the same lead-colored miles. He knew every ridge and draw and gully between him and the horizon. To the south, his plowed fields; to the east, the sod stables, the cattle corral, the pond — and then the grass.
---
Daybook is contributed by Steve King, who teaches in the English Department of Memorial University in St. John's, Newfoundland. His literary daybook began as a radio series syndicated nationally in Canada. He can be found online at todayinliterature.com.