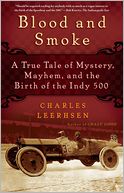 The first Indy 500 race was held on this day in 1911. The $40,000 prize and the marathon challenge attracted the top drivers of the day, and a crowd estimated at upward of 80,000 came to witness, as the Indianapolis Sun newspaper put it on race day, the "Promise of Speed and Prospect of Blood."

Those "speed-lust kings and queens" who watched through to the end of the grueling, seven-hour race saw Ray Harroun take first place, his Marmon Wasp averaging 75 mph. Harroun daringly competed without a rider mechanic, used as spotter by all other contestants. Their pre-race complaints that Harroun's tactic was too dangerous turned ironic when, in the twelfth lap, a rider mechanic in Arthur Greiner's car became the Indy's first fatality.

Blood and Smoke (2011), Charles Leerhsen's account of "Mystery, Mayhem and the Birth of the Indy 500," puts a human face on racers like Greiner, now little known beyond his Indy record book listing as the first driver to finish last. Greiner was badly hurt in his Indy crash, but this was just the beginning, says Leerhsen, of "a run of bad luck that would knock him off his already loose hinges." Hearing an erroneous report that Greiner had been killed, his secret wife of five months, a twenty-two-year-old Ziegfeld Follies dancer, revealed the marriage to Greiner's parents, who were so outraged at his fast-lane lifestyle that they cut him from their will. Greiner never competed seriously again, turned alcoholic, and died young. But the Indy and the era of super-sport spectacles were born:
One hundred years of calculated, corporate-sponsored hoopla at Olympic, Final Four, and Super Bowl sites may dull our sense of how simultaneously exciting and unnerving this all was, even to the very people clinking their highball glasses in Indianapolis. Until then no big city had ever spent such an extended period heaping significance on something as demonstrably trifling as an automobile race.… To old-timers who could remember when "sports" meant sweaty, backroom cockfights and bareknuckle brawls, the idea of a town turning itself upside down for four weeks or more in preparation for a single afternoon of family-oriented fun seemed utterly ridiculous. The younger generation did not disagree, but thought "ridiculous" not a bad word or an unworthy aspiration.
---
Daybook is contributed by Steve King, who teaches in the English Department of Memorial University in St. John's, Newfoundland. His literary daybook began as a radio series syndicated nationally in Canada. He can be found online at todayinliterature.com.