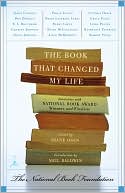 March 16:The first National Book Awards were presented on this day in 1950. Thenon-fiction winner was Ralph L. Rusk for TheLife of Ralph Waldo Emerson; the poetry winner was William Carlos Williamsfor two books, Paterson: Book III andSelected Poems; the fiction winnerwas Nelson Algren for The Man with theGolden Arm.
Fifteen recent NBA winnersand finalists are interviewed in The BookThat Changed My Life, most of them offering not one influential book but atruckload. One exception is Don Delillo, who reveals that he read very littlewhen growing up, and "did not have a strong sense of writerly ambition."Though he does remember the precise moment when he got the call to begin hisfirst novel, Americana (1971), inwhich a village street's "stillness and wistfulness" became "acounterpoint of lost innocence":
I was in Southwest Harboron Mount Desert Island in Maine, looking down a street filled with elms andmaples and old homes. And there was something in the moment. Some mystery thatmade me feel I had to write about it. And even though it took me, oh, I don'tknow, two months before I even put word on paper, even the title of the novelwas implicit in that moment.
Cynthia Ozick's interviewplaces her in a different group, among those born-to-read and born-to-write:
I always wrote, and Ialways had writing as an ambition. …I remember composing a poem at the age offive, before, I could read or write; my mother was my amanuensis. I retain onlythe opening two words: "O moon!" …As I grew older, the images ofbleak yet rapturous imposture—particularly in fairy tales—aroused aninescapable sensation of wanting to write. Princesses turned into mute swans,princes into beasts…. I began to pursue that truly voluptuous sensation inmiddle childhood. I recall having written a story at the age of eleven, andafterward finding it an embarrassment; so I signed it, self-consciously, "Bythe Young Author, Age Nine." Another imposture. It might, I thought, havebeen adequate for a nine-year-old, but not for a serious writer of eleven.
---
Daybook is contributed by Steve King, who teaches in the English Department of Memorial University in St. John's, Newfoundland. His literary daybook began as a radio series syndicated nationally in Canada. He can be found online at todayinliterature.com.