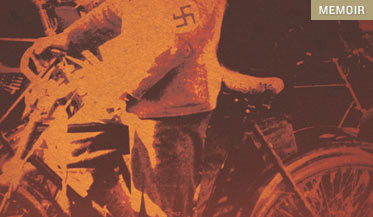 Cioma Sch?nhaus' derring-do and survival in Nazi Germany was "something to cheer about at last," a pastor told him in Stuttgart. It was September 1943. Sch?nhaus, a graphic artist, had been living undercover in Berlin, forging ID papers for Jews like himself. He had found refuge in Stuttgart, where he stayed one night with sympathetic Christian clergymen while en route from Berlin to Switzerland. He was fleeing Berlin, improbably, by bicycle. The Forger is Sch?nhaus' vivid, riveting memoir. To read it is to feel a powerful impulse, as the pastor did, to cheer him on as he recounts how he bobbed and weaved around countless treacheries to save other Jews and himself.

The book, which is ably translated from the German by Alan Bance, is, of course, a latecomer to the body of Holocaust literature. Yet, unlike the Jews described, say, in Elie Wiesel's writings or William Styron's Sophie's Choice, Sch?nhaus transcends the fate of Holocaust victim. His account seems refreshingly new because of the exceptional image it presents of a Jew trapped in Hitler's Germany who, relying on guts and guile, cavalierly defies the Gestapo, rescues others, and escapes.

The story begins in 1941, when Sch?nhaus was 19 years old, a hot-blooded youth dreaming of nothing so much as getting a girlfriend. The vise that was Hitler's master plan to exterminate the Jews was closing tightly around his family.

Summoned to meet a Gestapo official, Sch?nhaus and his mother learn that the family is to be deported to the Majdanek concentration camp in Poland. At the time, Sch?nhaus was operating a lathe in a munitions factory, retooling old gun barrels for use in machine guns — a job he had wangled because it theoretically exempted him from persecution. But the official had a different idea: "The fact is that we at the Gestapo do not like separating family members."

Although Sch?nhaus appealed, an order to deport him along with his parents remained in effect until the very day, June 2, 1942, of the family's departure. As Sch?nhaus waited with his parents at Gestapo headquarters, ready to be hauled away, another official deferred him, seemingly on a whim. Both his mother and father were to die at Majdanek.

Sch?nhaus almost certainly could not have remained out of the Gestapo's clutches in Berlin for as long as he did without the protective shield of Jewish resisters. The backdrop of the resisters' network is an intriguing part of the German capital's wartime history, and Sch?nhaus depicts it dramatically.

The resisters protected Sch?nhaus in return for his skilful services as a forger. One guardian angel was Franz Kaufmann, a World War I veteran and civil servant, who risked his life to help fugitive Jews. Kaufmann supplied Sch?nhaus with ration coupons, which he needed to buy food once he went underground, quitting his factory job so he would have more time to produce counterfeit ID cards. Other resisters harbored him in safe houses.

But even with plenty of money (he cashed in by selling household goods that had belonged to his parents and other relatives) and safe houses at his disposal, Sch?nhaus was in constant jeopardy of being caught. When staying for a long stretch at a safe house seemed too risky, he looked for rooms to rent. He would arrive in the evening, when it was too late for a landlord to register him with the police, as the law required. The next morning, saying that he had received unexpected orders to report for military duty, he would clear out.

He was a meticulous artist, and while he was not always cautious, he did have extraordinary good luck on his side. With reckless abandon he carried on an affair with a married woman whose husband, a German army sergeant, was off fighting in the war. When the woman's sister-in-law turned up at the apartment, Sch?nhaus scrambled under the bedcovers, undetected, in the nick of time. Nor was he circumspect about calling attention to himself as a big spender. He bought a mahogany sailboat for Sunday jaunts on Lake Havel. He lunched in fancy restaurants, such as the one at the Hotel Esplanade favored by the Prussian aristocracy. His descriptions of the food and wines he consumed are mouthwatering.

Sch?nhaus' recall of ordinary details from his life more than four decades ago is astonishing; at times, his memory can seem too good to be true. That he could accurately replicate verbatim his conversations from the early 1940s, as he purports to do, strains credulity. His self-serving justifications with regard to some of his choices and compromises are also somewhat troubling. He had no compunction about living the high life in Berlin while so many people around him were suffering hardship, he says, because as his parents' "representative," he believed that he had "a duty to experience all the pleasures" they were denied. He was not wrong to support the Nazi war effort as a munitions factory worker, he suggests, because he sabotaged some gun barrels on the production line. By tilting his story in these directions, Sch?nhaus breaks some of his narrative's spell and poses a nagging question: what liberties with the truth might he have taken?

Recklessly losing his bogus ID papers on a tram, Sch?nhaus unleashes a chain of events that culminates with his photo being plastered on "Wanted" posters around Berlin. His life ever more in jeopardy, he flees toward the Swiss border, armed only with a forged military passbook, copious maps, and a cover story: if the police stop him, he will say that he is an army draftsman on a week's leave.

Sch?nhaus intended to hop a freight train bound for Switzerland and bypass German border guards. He scrubbed the plan because he suspected he might have been detected casing a railway embankment. That left him with a fallback scheme devised on the fly: he would feign an invitation to visit Ferdinand Schmidt (a name he found in the local telephone directory) at his country house hard by the Swiss frontier. Somehow Sch?nhaus would make a dash for it.

The plan worked, sort of. Confronted by soldiers, he bluffed his way past them. He proceeded to the door of Ferdinand Schmidt, only to be turned away. Other cliffhanging moments ensued.

Suffice it to say that Sch?nhaus made it to Switzerland, where he lives today. He travels to Germany frequently, talking about his book. In a preface, his translator notes: "What is most impressive about Cioma is that he is not at all embittered." Impressive, yes, but not surprising, considering Sch?nhaus' tendency to plug forward with hope, rather than look back with recrimination. Indeed, that trait was a key to his survival.