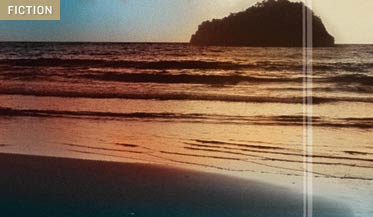 In Penang, monsoons blow ten months of the year, dropping nearly nine feet of water on the island, three times what sozzled Seattle gets. The rhythms of this downpour give Tan Twan Eng?s epic debut, The Gift of Rain, which is set in Penang and stretches across centuries, a sleepy melancholy. Water trickles down drainpipes, pings windowpanes, and laps at seashores. Reading the novel you almost want to pop an umbrella of sympathy — or wipe the rain from your glasses. It doesn?t bother Philip Hutton, however, the book?s half-Chinese, half-British narrator. "I was born the gift of rain," he says. Good things, for him, arrive by storm clouds, including — in the opening scene — the woman who inspires him to make amends with the past.

In the novel?s dreamy opening scene, a 75-year-old widow arrives at Hutton?s sprawling mansion, bearing a sword and some questions. She wants to talk about a Japanese man they both knew — she as a lover, Hutton as an aikido master. Aging and alone, Hutton girds himself for one final look into time?s reflecting pool. "There is the misconception that we have reached our destination the moment we grow old," he says, "but?we are still traveling toward those destinations?even on the day we close our eyes for the final time."

These earnest sentiments eventually give way to the story, which boomerangs back to 1939, the year Philip?s father, a wealthy shipping and trading magnate, leased a small island to a Japanese diplomat named Hayato Endo. Philip was a lonely child, driven by the lugubrious self-reliance of a boy who lost his mother at a young age. One year, while Philip and his half siblings (who were born to a full English mother) are on a six-month visit to England, Philip discovers Endo standing at their front door. Reports of Japanese atrocities have already begun to trickle out of China, and the mansion?s Chinese servants are none to happy to see Endo on the grounds.

Readers ignorant of Chinese-Malay history will not need a refresher course to follow along in such scenes. Eng braids The Gift of Rain with enormous swathes of history, beginning with 1939 and stretching back centuries, then returning to the present day. He also takes special care to describe Penang to readers, revealing that, in spite of the tale that Hutton is about to tell us, the man belongs nowhere else. "I have never seen the light of Penang replicated anywhere else in the world," Hutton says, "bright, bringing everything into razor-sharp focus, yet at the same time warm and forgiving, making you want to melt into the walls."

The Gift of Rain toggles between this shiny present and the long-ago past, the latter of which is far more vividly sketched. Thus we learn that in that distant summer, Philip struck up a friendship with Endo and began learning aikido from him. Eng brings to life their exhausting training sessions — which included instruction in Japanese — the quick bond of trust that sparring inspires, the pleasing clarity of learning through pain. "We bowed and he kicked me, aiming for my kidneys," Hutton recalls. "I was not fast enough — I was staring at his eyes, at his hands…. The pain flared like red ink splashed on paper."

Eng is a hit-or-miss stylist. Clumsy scenes cascade through thickets of excessive description only to stumble into an image, like the one above, so beautiful one wonders if it?s an accident. Hutton?s narrating register recalls the exquisite poise of Kazuo Ishiguro in his wonderful second book, An Artist of the Floating World. Only Eng sometimes presses too hard on the mist machines. "Veins of lightning flared and throbbed behind the wall of clouds," he writes in one scene, "turning the bruised sky pink, and I felt I was being granted glimpses of blood pulsing silently through the ventricles of an immense human heart."

The Gift of Rain is far more fascinating when it sticks to the ever-tightening mesh of loyalties enveloping Hutton. His family eventually returns from England, by which point he is so enthralled with Endo he has begun sparring at the Japanese consulate without a thought for what that means to people around him. Finally, the Japanese invade Malaysia, and it becomes clear that the price for Hutton?s tutorial in aikido was a betrayal so large it will ruin his family?s reputation for generations to come. He has accidentally aided the Japanese invasion, and he may have to keep spying, this time on purpose, to help them.

Eng deftly ratchets up of tensions as Hutton works to save his family, and word of ever more atrocities turns the local population against him. It?s a dramatic story about a period in this part of the world that hasn?t received much attention from novelists, let alone one as proficient as Eng. Still, every now and then, when one is drowning in his denser pages, it?s hard not to feel this book would have been more moving, Hutton?s guilt over his na?vet? more powerful, had Eng found a way to prune back on his descriptions and allowed the reader to imagine some of the island?s history, let alone what makes the sound of its rain so melancholy.