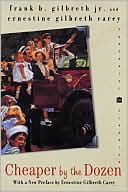 Ernestine Gilbreth Cary was born on this day in 1908. Along with her younger brother and eventual coauthor, Frank Gilbreth Jr., Ernestine recognized the comic possibilities of her family situation: parents who were pioneers in the study of workplace efficiency having twelve children. The result was the 1948 hit Cheaper by the Dozen, the chronicle that made the Gilbreth family's story famous.

The cover of most editions of the family chronicle shows them out for a drive in their Pierce Arrow, this recreation an opportunity for strangers to gape and for Dad to exercise his favorite joke:
"How do you feed all those kids, Mister?"

Dad would ponder for a minute. Then, rearing back so those on the outskirts could hear, he'd say as if he had just thought it up:

"Well, they come cheaper by the dozen, you know."

This was designed to bring down the house, and usually it did. Dad had a good sense of theater, and he'd try to time this apparent ad lib so that it would coincide with the change in traffic. While the peasantry was chuckling, the Pierce Arrow would buck away in clouds of gray smoke, while the professor up front rendered a few bars of Honk Honk Kadookah. Leave 'em in stitches, that was us.
The clouds of smoke, and the parents as efficiency experts, meant that the kids had to wear their "duster" overgarments when out for a ride. One day a passerby took the carload for an orphanage on tour, and Ernestine, from the back seat, sensed an opportunity: "Well, we're through with the dusters…. We'll never wear them again. Never again. Quoth the raven, and I quoth, 'Nevermore,' and I unquoth." At first, Dad scoffed at this rebellion, but then Mother took Ernestine's side and that was that: " 'All right, Lillie' Dad grinned…. 'As I always say, you're the boss. And I unquoth, too.' "

And Lillian was the boss, the only boss, for many years. Frank Gilbreth died at age fifty-five, when the youngest of the children was just two, and his wife had to take over on her own, as chronicled in Ernestine and Frank's sequel, Belles on Their Toes. But Lillian Gilbreth is in the National Women's Hall of Fame for other reasons: after earning a doctorate in psychology she, too, became an industrial engineer and a pioneer in "motion studies" — with a specialty in home management and such practical inventions as the step-on trash can among her accomplishments.
---
Daybook is contributed by Steve King, who teaches in the English Department of Memorial University in St. John's, Newfoundland. His literary daybook began as a radio series syndicated nationally in Canada. He can be found online at todayinliterature.com.