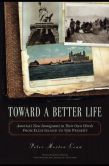 We wondered whether we would ever get to America. I was thinking, "Survive the day." That's it. Nothing else mattered. To survive the day and survive the voyage. Nothing else. I didn't cry for what I lost.… To wash my face, to wash my hands, to keep the child going, and to be well. That's all.
The Ellis Island immigrant inspection center opened on this day in 1892. Over the next sixty-six years, some 12 million would pass through Ellis on their way to new lives across America. The real-life tales in Peter Morton Coan's Ellis Island Interviews and its sequel, Towards a Better Life, describe fleeing old-world pogroms and poverty and arriving in gratitude for whatever the new world could provide:
We got to New York; we were so elated. We were so happy. We weren't screaming. The elation came from the heart. You could see it on the faces of the people.… They were in awe. It's like, we were safe. That's all there was. When we landed at Ellis Island, they said, "What do you want? You want something to eat?" I said, "I want a good glass of milk." That's all I wanted. The milk tasted like cream. It was delicious. [She is moved.] That's all I remember.
---
Daybook is contributed by Steve King, who teaches in the English Department of Memorial University in St. John's, Newfoundland. His literary daybook began as a radio series syndicated nationally in Canada. He can be found online at todayinliterature.com.