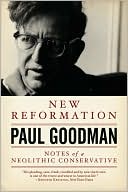 Paul Goodman died on this day in 1972. Although he wrote in other genres—short stories, novels, a handful of poetry collections—Goodman is most widely remembered as a provocative thinker and essayist. Evidence that he was America's "urban, twentieth-century Thoreau" (Hayden Carruth) might be found in any of his books or quips (for example, the oft-quoted "Few great men could pass Personnel") and in this mission statement:
I move in a society so devoid of ordinary reality that I am continually stopping to teach good sense, to give support, to help out, as a young gangster might help an old lady across the street on his way to the stick-up.
Growing Up Absurd, Goodman's take on "the disgrace of the Organized System, of semimonopolies, government, advertisers, etc., and the disaffection of the growing generation," was an essential text in the sixties. The following passage is from New Reformation: Notes of a Neolithic Conservative, Goodman's last book of social criticism, arguing for "the breakdown of belief, and the emergence of new belief, in sciences and professions, education, and civil legitimacy." At this point, Goodman is advocating a controlled approach to technological innovations and applications:
These days, perhaps the chief moral criterion of a philosophic technology is modesty, having a sense of the whole and not obtruding more than a particular function warrants. Immodesty is always a danger of free enterprise, but when the same disposition to market is financed by big corporations, technologists rush into production with solutions that swamp the environment.… Since we are technologically overcommitted, a good general maxim in advanced countries at present is to innovate in order to simplify, but otherwise to innovate as sparingly as possible. Every advanced country is overtechnologized; past a certain point, the quality of life diminishes with new "improvements."… There are ingenious devices for unimportant functions, stressful mazes for essential functions, and drastic dislocation when anything goes wrong, which happens with increasing frequency. To add to the complexity, the mass of people tend to become incompetent, and dependent on repairmen. Indeed, unrepairability except by experts has become a desideratum of industrial design.
---
Daybook is contributed by Steve King, who teaches in the English Department of Memorial University in St. John's, Newfoundland. His literary daybook began as a radio series syndicated nationally in Canada. He can be found online at todayinliterature.com.