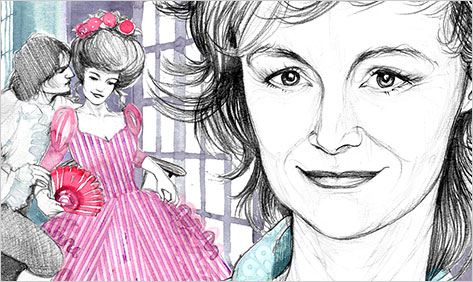 People often dismiss the romance genre as offering a "fantasy" of lasting love. But they miss a signal point: falling in love is no fantasy, and remaining in love is challenging but hardly impossible. The real fantasy of a romance novel, in my opinion, is that it stops before anyone mentions the word cancer or tells a little girl her mother is gone forever. From that point of view, historical romances are the most escapist of all. Only half of women in the Regency period lived past page 45: it hardly needs be said that my heroines live to old age, surrounded by thriving children and grandchildren.
It's particularly telling, then, that Avon Books turned to historical romances when they paired with the National Ovarian Cancer Alliance to benefit women suffering from ovarian cancer — the fifth most deadly cancer for women. We need to beat this cancer, and how better to help the fight than by buying romances that sweep you away to a land, not to mention a time, that cancer forgot? For every Avon "K.I.S.S. & Teal" book and e-book sold this month, Avon will donate 25¢ toward programs that support ovarian cancer patients and their families, up to a total of $25,000 to match their initial $25,000 donation.
If I were to escape into the past, I would definitely like to jump into Stephanie Laurens's world of the Cynsters, in which dark-edged alpha heroes with a gift for sexy brooding meet strong-willed independent heroines, and then have a lot of terrific sex. Miss Heather Cynster would agree with me: she escapes from the boring balls of Regency London to a rather risqué party given by Lady Hereford. She's rescued by Viscount Breckenridge (whom she met before, but disliked), but is then kidnapped within a few minutes and whisked away to Gretna Green. Viscount Breckenridge to the Rescue is classic Stephanie Laurens — a perfect antidote to end-of-summer blues.
Katharine Ashe's In the Arms of a Marquess starts with a similar premise: the hero and heroine met in the past, although, in this case, Miss Octavia Pierce and the Marquess of Doreé are fascinated by their memories of each other. Tavy and Ben fell in love as adolescents but were torn apart by her family. In the intervening years Ben became a marquess and, as Tavy says, he's now "so high above her touch he might as well be a god." Angry at Octavia's supposed rejection of him, Ben takes every opportunity to dismiss her as beneath his notice. Of course, Octavia fights back; every woman who ever dreamed of having a titled lord at her feet will love this novel.
The heroine in Tessa Dare's A Night to Surrender has no interest in godlike men; in fact, she has little interest in men at all. Miss Susanna Finch is perfectly happy running Spindle Cove, a seaside village that's gained a reputation as a place to send errant or ailing daughters…the kind who are too interested in a footman or plagued by asthma. Susanna coaxes them back to health (and happiness) with a peaceful environment that includes no men — until Victor Bramwell, the Earl of Rycliff, is sent to Spindle Cove to gather a militia. I particularly loved the moment when Bram tells Susanna that he knows Spindle Cove will always be her true home. She asks "But not for you?" And he answers, "You're my home, Susanna. My home, my heart, my dearest love." Big sigh.
The characters in Cathy Maxwell's The Seduction of Scandal are cut from the same cloth as Susanna and Bram: stubborn do-gooders who fiercely resist the idea of falling in love. Lady Corinne is betrothed to the despicable Lord Freddie Sherwin whom Corinne discovers flaunting his white buttocks in bed with her maid. She runs away — and finds herself in the arms of a notorious highwayman, Thorn. I don't want to ruin the plot, but I'll say that Thorn is a fascinatingly complex man. I happen to love highwaymen, and Thorn is one of the best I've read in years.
The mismatched social backgrounds of Corinne and Thorn are echoed in Caroline Linden's One Night in London:Edward de Lacey is the son of a duke, betrothed to a placid and respectable young woman, and Lady Francesca Gordon is a widow with a rather dicey reputation. Edward thought love was something that would simply grow wherever one instructed it to but finds that it "could also be a wild fierce thing that grew where it should not…even when he himself had tried to smother it." The difference in Edward and Francesca's station is the pivot on which the novel turns, and the fantastic moment in which Edward tells her that he would throw away everything connected to the dukedom in order to have her is deeply satisfying.
Star Crossed Seduction by Jenny Brown plays a different twist on the question of class background. Temperance Smith is a pickpocket living on the streets, though her parentage turns out to be more complicated that her circumstances imply. Captain Miles Trevelyan is a member of the minor gentry, home after years of war to find a respectable wife. The novel offers something of a cure for readers suffering from a surfeit of dukes. While Trev is certainly above Temperence in social stature — and inclined to constantly mistrust her motives as a result — he is not a man of huge political or social power. The novel is a fascinating reminder that wrenching, deeply emotional love stories are not limited to the highest classes, nor are they necessarily accompanied by oodles of money.
My mother was embarrassed by the fact that I write romance. She called it that "sex stuff," and couldn't bring herself to read one. I was writing When the Duke Returns when she was in the hospice dying of ovarian cancer, and on each visit I told her more details of the duke who comes home to find that his entire house smells like a sewer. She laughed and laughed as the details of my duke's dysfunctional plumbing grew. There's the real gift that romance gives to readers, in my opinion: an escape in which even the most unromantic of subjects — non-functional toilets, for instance — weave into a world with no chemo and no post mortems.
This column is a call to action. Most women don't know the symptoms of ovarian cancer, and that lends itself to the extraordinary fact that the five-year survival rate for patients is only 46%, as opposed to breast cancer's 89%. The symptoms of this cancer are detailed in the back of each K.I.S.S. (Know the Important Signs and Symptoms) book. Buy one for every woman you love…make sure she knows that ovarian cancer is not a silent killer, as people thought for so long. Caught at Stage One, ovarian cancer is eminently beatable. We need to know, and to teach our loved ones, the symptoms.
Let's fight until it's rare for a woman to die from a diagnosis of ovarian cancer.
---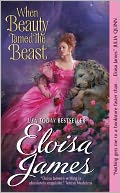 Eloisa James's latest romance is When Beauty Tamed the Beast.
Please do check out Eloisa's past columns in the Archives, and if you'd like to get her reaction to romances as she reads them, follow her on Facebook or Twitter. B&N offers lots of places for you to share your reactions to your favorite books. There's the Romantic Reads Book Club, not to mention our daily romance blog, Heart to Heart, where readers chat about the hottest news in the world of romance, from favorite authors to scorching love scenes.
For sneak peeks at all Eloisa's romances, please visit her web site at www.eloisajames.com.