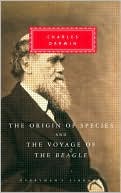 Charles Darwin returned home from his Beagle voyage on this day in 1836, five years and three days after he set out. There are many moments in Darwin's notebook diary, later published as The Voyage of the Beagle, which support Stephen Jay Gould's comment that the trip reflects "perhaps the greatest intellectual adventure ever experienced by one man." The following is excerpted from notebook entries made in early October, 1835, Darwin almost four years out but still a wide-eyed Defoe staring at the geological-biological footprint in the Galapagos Islands:
The rocks on the coast abounded with great black lizards, between three and four feet long; and on the hills, an ugly yellowish-brown species was equally common. We saw many of this latter kind, some clumsily running out of the way, and others shuffling into their burrows…. The water is only three or four inches deep, and rests on a layer of beautifully crystallized, white salt. The lake is quite circular, and is fringed with a border of bright green succulent plants; the almost precipitous walls of the crater are clothed with wood, so that the scene was altogether both picturesque and curious. A few years since, the sailors belonging to a sealing-vessel murdered their captain in this quiet spot; and we saw his skull lying among the bushes…

The archipelago is a little world within itself, or rather a satellite attached to America, whence it has derived a few stray colonists, and has received the general character of its indigenous productions…. Seeing every height crowned with its crater, and the boundaries of most of the lava-streams still distinct, we are led to believe that within a period geologically recent the unbroken ocean was here spread out. Hence, both in space and time, we seem to be brought somewhat near to that great fact — that mystery of mysteries — the first appearance of new beings on this earth.
Darwin almost didn't make it aboard the Beagle. Captain Fitzroy believed in phrenology, and when he finally met Darwin, just days before departure, he very nearly withdrew his invitation on the grounds that he didn't like the look of Darwin's head. Upon Darwin's return, his father seems to have been similarly struck: the first thing he is reported to have said is, "Why, the shape of his head is quite altered." The first sketchy tree-of-life diagrams of the theory inside the head were published eight months after Darwin's return, the full theory not for another twenty-two years.
---
Daybook is contributed by Steve King, who teaches in the English Department of Memorial University in St. John's, Newfoundland. His literary daybook began as a radio series syndicated nationally in Canada. He can be found online at todayinliterature.com.