When Mark Twain moved to Buffalo in 1869, taking his new bride and taking up his new position at the Buffalo Express, he expected to live in boarding house conditions. Instead, courtesy of his in-laws, he found himself the owner of a stately and comfortable home. When Twain decided to give up the newspaper job for full-time writing, and to move closer to East Coast literary society, he upgraded from comfort to splendor, if not to ostentation and eccentricity. The result was his nineteen-room Victorian mansion in Hartford, Connecticut, described by one biographer as "part steamboat, part medieval stronghold and part cuckoo clock."
Now a museum, Twain's Hartford home is regarded as his signature in brick, an architectural version of the famous white suit. Like Huck Finn, written while Twain was living there, the house is also regarded as a very American tale: ten years earlier, the author was living in a prospector's tent; five years earlier, he was still living out of rooms and suitcases. As intended, his house has become a monument to his large personality and his bootstrap pluck.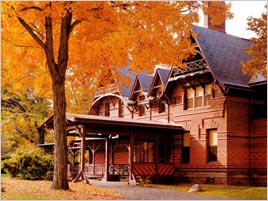 It was during his seventeen years in Hartford that Twain polished those traits which established him as one of the most successful and internationally known public figures of his day—the country drawl of down-home simplicity, the fireside (bedside, hammock) cigar of detached wisdom, the wild hair of comedy bursting from the conventional three-piece suit.
But shadow images lurk behind these pictures of Twain and Hartford. Most of Twain's summers were spent elsewhere, at nearby Nook Farm or at Quarry Farm in upstate New York. When at home he was often surrounded by guests, or accepting invitations out, and often just returned from or about to leave for some trip or talk. He always had a handful of writing projects on the go, and was usually willing to drop all of them in favor of his larger handful of inventions, business deals, and side projects. His letters bristle with his enthusiasms and his curses, couched in a rollercoaster of hyperbole. While on the steamboat deck of his mansion, or in his billiards room, even between courses at dinner, he was always a restless pacer, anxious for motion or commotion.
Forced out by bankruptcy, Twain and his family left their Hartford home in 1891—for good as it turned out. On one return business trip from Europe, Twain visited the ghost house one last time. His sorrowful letter to Livy describes the "all-pervading spirit of peace & serenity & deep contentment" in the rooms, and his "furious desire to have us all in this house again & right away, & never go outside the grounds any more forever." The letter might be read as Twain's apology for having caused the family to leave their only shared home, or for having a personality which rarely allowed him to live there in quiet enjoyment.
---
Steve King contributes Daybook to the Barnes & Noble Review and teaches in the English Department of Memorial University in St. John's, Newfoundland. His literary daybook began as a radio series syndicated nationally in Canada. He can be found online at http://www.todayinliterature.com.