Love Rocks is a biweekly look at new self-published romance titles from the community at Rock*It Reads.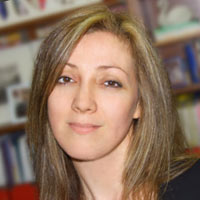 Let's face it. You're busy this time of year. You love the holiday season, but you've got shopping to do, parties to attend (more shopping for clothes to wear to those parties) and the decorations to put up, gifts to wrap. And then there's planning for that big Christmas feast you're going to prepare this year.
In between it all, you're driving around town, singing to the Christmas carols on the radio. (Come on. I can't be the only one who does this.) And you take in as many holiday movies as you can.
But that doesn't satisfy a booklover's soul. No, the only thing that does that is, well, you guessed it.
Books.
You love holiday-themed romances—I mean who doesn't? But you don't always have time to read when you've got so much to do. No worries. I believe I've found two holiday gems—novellas, in fact—that I think you'll enjoy, and add to your holiday cheer.
I adore novellas. They're a blast of entertainment. Something you can devour in a short period of time. Readers love them because they tend to be cheaper than full-length novels, are just as satisfying, and
are a great way to discover/try new-to-them authors.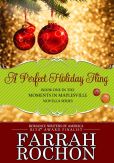 A PERFECT HOLIDAY FLING by Farrah Rochon is a heartwarming, seriously sexy Christmas story. Stefan Sutherland is doing his best to make this Christmas all that it can be for his nephew while his sister is deployed in Afghanistan. Adopting a stray cat to make his young nephew happy was the last thing he expected to do. Correction. Meeting the town's hot vet, and desire and feelings she inspires are the last things this Navy pilot expected to happen.
But it's making Maplesville look a whole lot better to Stefan.
Callie has had it tough. The death of her parents as a teen, and more recently the death her marriage and of a beloved pet has put a damper on Christmas—for awhile now. She could use some holiday cheer. And a perfect holiday fling.
But when it turns into so much more, will Stefan's and Callie's worlds pull them apart? Or is this truly the season of miracles?
What I loved about this story, aside from its touching moments and the delicious chemistry between Callie and Stefan, was that A PERFECT HOLIDAY FLING deals with real issues that many families are facing.
Treat yourself to A PERFECT HOLIDAY FLING. I think you'll be glad you did.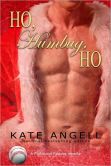 HO, HUMBUG, HO, by Kate Angell had me laughing out loud many times. This was my first book by Ms. Angell, and I don't think it will be my last. I adored the hero, Alex Boxer—a wonderfully wicked, far-too-handsome-for-his-own-good ballplayer who couldn't care less about Christmas. Raised rich, his family traveled during the holidays.
He can't believe a speeding ticket has landed him in the spot he's in now—forced to do community service as Santa in a mall in Holiday, Florida, of all places.
Add, a Santa suit that's too small for his muscled body, (making him look more like Chippendale Santa), a lot of squirmy kids, a farting reindeer, and a blonde named Holly who is as gorgeous as she is a pain in the you-know-what, and you've got the makings of a funny, sexy contemporary holiday story.
Holly McIntyre is responsible for reporting Alex's "progress" to the judge and runs the show at the mall. She's his sidekick and dresses in a Nutcracker suit. (I'll let you imagine the one-liners Alex uses during his torturous hours in the Santa suit. *smiles*) She is everything Alex is not. Selfless and full of the holiday spirit.
I loved seeing Alex become a different man. Or perhaps get in touch with a side of him he didn't know existed. Thanks to Holly, he learns the meaning of Christmas—not to mention love. HO, HUMBUG, HO, is pure delight.
No matter what holiday you celebrate during this festive season, may it be filled with family, friends and good cheer.
To sign in and make a comment, click on the Sign In or Registerlink in the upper right-hand corner of the page, then come back to this page to leave a comment below.


---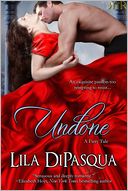 Lila DiPasqua is a multi-published author of wicked & witty historical romance novels for Penguin/Berkley, as well as self-published works. She is best known for her critically acclaimed Fiery Tales series. Watch for her upcoming holiday novella (part of the Fiery Tales series) THE DUKE'S MATCH GIRL, a steamy, romantic retelling of The Little Match Girl. See her website for details: www.liladipasqua.com.