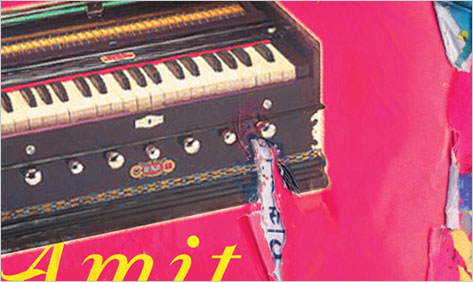 Towards the beginning of Amit Chaudhuri's delicate yet expansive new novel, sixteen-year-old Nirmalaya Sengupta stands on the beach near the high-rise towers going up on Bombay's Marine Drive. His father's recent promotions in a British company are moving his family up in the world, and their new flat in Thacker Towers, where his mother takes lessons in Indian classical singing, is supposedly more prepossessing than their former home on historically stately Malabar Hill. It is by now the mid-1970s-marking the first full generation after Independence. The towers, dotted with tiny men on rickety bamboo scaffoldings, also mark vast change in urban landscape of Bombay, tottering expansion fueled by population growth and poverty and ambition and also by corruption, a chaotic urbanization that is sending the city sprawling outwards into tangled slums.
Nirmalaya, of course, doesn't quite grasp it this way, at least not right then on the beach. He's both too dreamy and too existential to think so sociologically. Instead he looks at the flies in front of him. He's got reason to consider them: Despite pretenses of wealth and glamour on Marine Drive, flies are multiplying within the walls of his parents' new luxury flat. They sit on his mothers' valuable Buddhas. They disrupt company. They buzz beneath her music lessons.
But on a "featureless strip of sand" Nirmalaya meditates on the their dark buzz. 'Bombay, as everyone had learnt in school, had once been seven fishing islands that had been presented by the Portuguese to the British as a part of Catherine of Braganza's dowry; "There was no-thing here then," the geography teacher had said… enthralled and relieved for an instant by the sheer recentness of what sometimes seemed eternal: the exercise books, children's voices, chalk dust. "Only these fishermen." Nirmalaya walks on the ratty, urbanized waterfront, pondering the relationship between the temporal and the eternal, the no-thing out of which Bombay, the colonial city, is even now dizzyingly springing. He sees upturned boats, fishermen, sour nets drying. The apparent nothingness fascinates Nirmalaya. The flies, with their chaotic regeneration, their impermanent permanence, are somehow a symbol of the rather evanescent eternity that he feels in Bombay, in India, and in his life in general. The flies persist. He thinks: "It was from here that the flies had moved into Thacker Towers."
The flies buzz within a book that is by and large is about Indian music, about the traditions that keep art alive, even as cultures shift. Despite the fact that it stretches across ten or so years, the book captures this flux at a stately pace, unfolding generous and keenly observed relationships. Bombay is vast; India is vaster: This is a novel of particulars. Scenes take place mostly within Nirmalaya's living room, at his mother's (and later his own) music lessons, at a few company dinners. There are forays to concerts and to the Lal family home across town; Chaudhuri's focus on the nuances of class relations recalls something of Upstairs, Downstairs. It is an elegant, almost Jamesian study of musicians and their patrons, of Nirmalaya's own elite family and his limited (though ruminative) glimpses into the lives of those that serve them.
From a certain vantage, it's almost startling how intimate the urban life captured here really is. While The Moor's Last Sigh, Salman Rushdie's sprawling allegorical saga, treats Bombay with razzle-dazzle and jangling noise, Chaudhuri's book feels startlingly quiet. It springs from a tradition that belies the Bombay against which it is taking place: It feels, in some ways, like a novel of village life. The pace is leisurely, suggesting Tagore's The Post Office or an R.K. Narayan tale- local, mannered, bureaucratic, even infinitely slow. It is the India in which one waits, very calmly, a long time for trains to come. Meanwhile, the prose maintains the attentiveness of a Satyajit Ray film, in which little by little children grow up, kittens grow bigger, and at last, the train does arrive. This patient attentiveness does not preclude a wider world. Instead it provides a meditative vantage-an elegant picture window through which to view it.
After all, Nirmalaya's mother Mallika comes from a village world. She too knows the Bengali songs of Tagore, not the more commercial seeming Hindi ghazals of Bombay. Uprooted, now part of company life in the big city, she continues her studies-perhaps once ambitious to record her own music, perhaps now merely to keep the music in herself alive. Indeed, what the music is for, and what purpose it serves for each of them remains open and unfolding. Mallika's teacher, Shyamji, is the son of a famous, mostly forgotten artisan; saddled with a large family, he travels from various urban outskirts in to give lessons to people like Mallika-wives who want to sing, and perhaps a few students who want to be in the Bombay entertainment world as well. But Shyamji does not really teach classical music proper any more, arguing that it won't pay bills, that it does not earn its keep. Instead he teaches many of his students the kind of music that may make them all money in the new Bombay, with its burgeoning film industry. Mallika doesn't really want to sing like this. Yet she persists, slightly anachronistic, full of patient (and Nirmalaya sometimes thinks, hopeless) devotion to song.
Years pass; small things vary, grow, and change; the tale is as meditative and elegantly put together as a raga. Still, underneath his music practice, Nirmalaya's mind buzzes with haunting questions: Where do these songs come from? Of what worth are they? Of what are they record? How do I belong to them? How do they belong to me? At moments, the music that his mother (and later he) studies seems as baffling and eternal as the flies themselves-a kind of endlessly regenerating no-thing- and also that which persists.
In his world there are singers (the ghost of Ravi Shankar haunts this novel) and movie stars, masters and legends, but also many nameless people, forgotten or nearly forgotten, who carry forward a tradition but leave behind no mark of their personal selves. Even his own father will step down as the leader of the company he has chaired, the world of company life will be taken away from them. The uncertain status of leadership will fade into the uncertain status of merely trying to live. Against the backdrop of such changes, the classical music to which he and his mother aspire is continual, ongoing, a stream of learning which flows forward but is essentially authorless. As he encounters western art and artists he thinks of music by Bach, or Beethoven- a known name; an author; an Immortal. Meanwhile, in Bombay, his teachers travel from house to house, sometimes asking for more money, seeking patronage, going on teaching the scales, offering a new variation of a tradition that buzzes through them, seemingly old as the flies themselves, sequences of repetition and variation, love and prayer, the utterance of song.