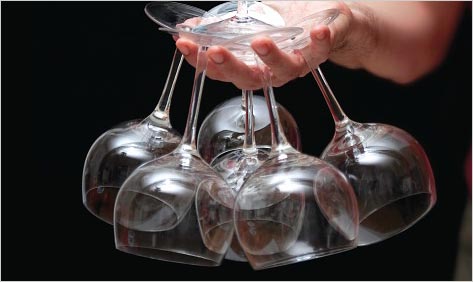 Once upon a time, and not so long ago, Jay McInerney was a relative innocent when it came to wine, an enthusiastic amateur willing to see if there was a silver lining in pretty much any bottle by drinking it. Sometimes he would turn up gold in unexpected places, and readers of his wine columns, first in House & Garden and then in The Wall Street Journal, cashed in. The Juice, his third collection of wine writings, has a few surprises, too — the Te Mura Road Vineyard Sauvignon Blanc for one, "farmer fizz" for another — but chances are better he is tipping Latour or Angelo Gaja or a single-vineyard, vintage champagne into the glass. No surprises there.

Earlier on as well, there was a pleasing inclusiveness. Maybe because it felt like if McInerney could find his way through the minefield of wine without losing a foot, so could you. Maybe because of the impression that he was happy — though some of the mornings-after must have been trying — and happy to share the good fortune of these assignments. Plus, he was and is an artful storyteller: while they may have been word-pinched squibs, the pieces surged with incident, landscape, sensuousness, and a winning humor.

The Juice has plenty going for it, including that storytelling. McInerney still has a sui generis touch when it comes to describing wines: a Sauvignon Blanc that tastes like "just about everything you might find on Carmen Miranda's hat," or the barnyard funk of a rustic Cornas, or an Australian bruiser that serves as "the vinous equivalent of a 1966 Pontiac GTO." He works hard to understand the mysteries of terroir, and he puts the thumbscrews to biodynamic farming, hoping it will reveal the witch in its craft (biodynamics ain't spilling those beans). He steers readers toward the wonders of Cabernet Sauvignon and Syrah blends, which "like crows and owls, are rarely seen together." And you have to love the story of McInerney sitting in the legendary hangout Elaine's with his glass of Pinot Grigio, while the next table over Norman Mailer and Gay Talese are pounding highballs.

Much of The Juice, however, moves in exclusive circles, where the reader is allowed to look but not to touch. The privilege of fame and wine-scribe access finds him tucking into big-name wines or names so rare they've never crossed your radar: "His whites trade for prices that induce vertigo," "Domaine de la Romanée-Conti makes a few barrels of Montrachet every year, but unless you own a private jet, you probably shouldn't worry about it" — that sort of thing, and damn the Whitmanesque inclusiveness. A little of this goes a long way; stick it in the reader's face once too often, and it is easier to feel more resentful than wowed.

Okay, who wouldn't drink the best when it is offered, and bully for McInerney. Who wouldn't be dazzled? But if he thinks we are dazzled by his rubbing shoulders with the "alpha males" who have so stunned the wine market by what they are willing to spend that they have made the top end their exclusive domain — dazzled as McInerney has been, to the point of moonstricken — he should think again. The bloat of their indulgence, even as parody, which this isn't, is repugnant. One dreadful windbag, leaking testosterone, passes judgment on a forty-four-year-old magnum of Salon Champagne: "Tight as a fourteen-year-old virgin." You want to ask him, "Been there, have you? Done that?"

Down, boy. Don't let them spoil the fun. Ignore the competitive oenophiliacs and focus on the worthy personalities: the winemakers, the cellar keepers, the buyers, the sommeliers, the grape nuts in general. There are handfuls of dapper, vest-pocket profiles of these folks, just as there are irresistible pairings, like Viognier and Thai food (which is a definite improvement on the author's youthful penchant for Gallo Hearty Burgundy and Thai stick). Argue with McInerney over the quirks of receptivity and the subjectivity of experience. Weigh him in the balance, and then give the man a glass.