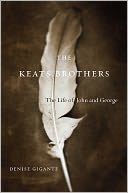 John Keats was born on this day in 1795. Keats's father, a hostler, died after a fall from a horse when Keats was eight. His mother disappeared for much of the next four years and then died when Keats was fourteen. As the eldest of the family's surviving children, Keats was caregiver to his dying brother, Tom, through his early twenties. Cumulatively, says biographer Andrew Motion, these events shaped Keats's worldview:
In letter after letter, and poem after poem, he would admit that there was "nothing stable in the world," that life was full of "all sorts of troubles and disagreeables," that existence was "pain," that "aching Pleasure" turned "to poison while the bee-mouth sips." The point of confronting these difficulties was not simply to learn a lesson in realism. It was to school the self for a "great human purpose."
The most recent biography of Keats, Denise Gigante's The Keats Brothers (2011), is based on his close relationship to his next-eldest brother, George. George and his young wife immigrated to America in 1818, settling in the Midwest; in his letters, the one excerpted below from the spring of 1819, Keats continues to hammer out his philosophy of resilience:
This is the world — thus we cannot expect to give away many hours to pleasure — circumstances are like Clouds continually gathering and bursting — While we are laughing the seed of some trouble is put into the wide arable land of events — while we are laughing it sprouts it grows and suddenly bears a poison fruit which we must pluck…. I will call the world a School instituted for the purpose of teaching little children to read — I will call the human heart the horn Book used in that School — and I will call the Child able to read, the Soul made from that School and its hornbook. Do you not see how necessary a World of Pains and troubles is to school an Intelligence and make it a Soul? A Place where the heart must feel and suffer in a thousand diverse ways! Not merely is the Heart a Hornbook, It is the Minds Bible, it is the Minds experience, it is the teat from which the Mind or intelligence sucks its identity.
---
Daybook is contributed by Steve King, who teaches in the English Department of Memorial University in St. John's, Newfoundland. His literary daybook began as a radio series syndicated nationally in Canada. He can be found online at todayinliterature.com.