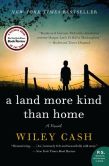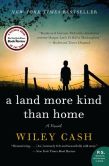 Dear Reader,
The Discover selection committee readers and I still rave about Wiley Cash's incredibly assured, character-driven debut novel, A Land More Kind Than Home, a Summer 2012 Discover Great New Writers selection. We're not alone in our acclaim: on NPR, Barrie Hardymon said A Land More Kind Than Home is "so beautifully written you'll be torn about how fast to read it. This is great, gothic Southern fiction."
[Wiley's second, equally unforgettable, literary page-turner This Dark Road To Mercy, goes on sale January 28, 2014.]
Wiley's playlist for A Land More Kind Than Home is here. An early riff on his personal history as a reader and a writer – among other things – is here, continues here, and comes full circle below with "The Kind of Thing You Still Write About", an original piece on discovering – and being discovered.
Cheers, Miwa
The Kind of Thing You Still Write About

Before there was Barnes & Noble, there was Mrs. Roberts, my seventh grade English teacher at Grier Junior High School in Gastonia, North Carolina. How do I know she discovered me? Because I recently found an old notebook full of stories and essays I'd written for assignments in Mrs. Roberts' class. What grade did I receive? Oh, you know, just a 101! My grade was accompanied by a handwritten note that reads I enjoyed your stories very much. Thank you, Mrs. Roberts. The thirty-six-year-old me enjoyed them as well.

As incredibly "talented" as I was at age twelve – the first story in my collection The Journal is about a Boy Scout troop that is attacked by a maniacal killer during a camping trip – I was also self-aware, and the artist's sense of self-deprecation can be found in my essay titled "What I Think of Myself":

I would like to be a little bigger. Not taller, just bigger. I also wish my feet weren't so big.

Honest. To the point. Fascinating.

But it wasn't just my own stature and unusually large feet that I was appraising. My mind was also focused on the fine arts, and my extensive knowledge of and appreciation for fine art is on display in my 243-word manifesto "My Favorite Movie(s)":

My two favorite movies of all time without a doubt are the following: Die Hard and Die Hard 2: Die Harder.

Not only do I show a refined critical palate; I also show a refined use of the oft misused colon.

Clearly inspired by the performances of Bruce Willis, I soon tried my own hand at cultivating suspense in my short story "A Killer Year":

"Good morning, students!" the principal's voice said over the intercom. "Welcome to Bailey Junior High School. I hope you have a killer year!"

The word "killer" echoed in Adam's ears. He had hated that word ever since his father had been murdered.

It's worth noting that this story is set primarily in Detroit and New York City; two places I had never visited in my life.

My sense of comedy and drama and my understanding of the ying and yang of family dynamics are readily apparent in my clinical study entitled "My Parents Are…" The essay opens with one word: Great. And the insights don't stop there.

Both of my parents are nice. My dad's funnier than my mom, but my mom's sweeter than my dad.

I need to pause and borrow a line from Rob Bass, whose music was popular at the time and clearly just as astute as my observation of my mother's and father's relationship: "It takes two to make a thing go right. It takes two to make it out of sight."

In the next paragraph, I further explore my father's comedic genius and sense of timing.

My father also does really, and I mean really, dumb things. For example, my brother Cliff and I went to the Handy Pantry with my dad. My brother and I stayed in the car, but my dad got out. My brother turned the radio up in the car, and my dad started dancing like MC Hammer up and down the sidewalk. It was hilarious.

It must be mentioned that my father was also very well known for exiting said Handy Pantry with a two-liter Sun Drop that he would turn up and pretend to drink. Then he would stagger to the car like he was drunk. It got me every time.

After detailing my father's performance comedy, the next paragraph is dedicated to my mother's sweetness.

When I was little, she used to rock me in a rocking chair. I used to look out of my parents' bedroom window and see the beacon flashing at the little airport across the field behind our house.

All sarcasm and irony aside, and as silly and melodramatic as some of these – most of these – stories and essays are, in this excerpt it is apparent to me that I was reaching toward something larger, something I continue to reach for in my fiction: a moment of honest vulnerability, a rekindled nostalgia, a way to connect with the reader so that he or she can take part in the experience I'm attempting to portray.

This is what I was trying to do when I wrote A Land More Kind Than Home, and I continued to attempt this when writing my second novel, This Dark Road to Mercy, which will be available on January 28, 2014. For me, there's something about going back to childhood that makes me understand the present moment in a way that I wouldn't or couldn't if I didn't spend so much time reflecting on the past. That reclamation of the past is what I'm always reaching for when I write about North Carolina: the woods, the fields, the fresh water creeks that ran like arteries through the land where I grew up in the woods with my sister, Jada, and my brother, Cliff.

A few nights ago, my wife and I were laughing out loud while I read excerpts from my notebook from Mrs. Roberts' class, but we both stopped laughing when I read the essay "My Favorite Place." My wife looked at me and said, "This is the kind of thing you still write about."

My favorite place to go is the woods behind my house. I do not know why I enjoy the woods so. When I was younger, around five years old, Jada would take me out into the deep woods behind our house. She would take encyclopedias with us and look up things for us to find. We had a great time. We found everything from giant anthills to snakeskin in those woods.

Some of the neighborhood children and I had a place deep in the woods that we referred to as Halloween Hallow. It was nothing but fallen trees and places to hide. To us it was our home away from home, our castle, or our magical rainforest. It was a place where we pretended to be other things. We were really just being children.

This is the kind of thing I still write about, and it's the kind of thing you'll find if you go into your local Barnes and Noble today and pick up a free NOOK book of A Land More Kind Than Home. In the novel, Jess and his older brother are just being children when they witness something they never should've seen, and Jess is just being a child when he makes the unconscious decision to harbor a horrible secret about his mother and a mysterious outsider named Carson Chambliss.

I can tell you that it's a wonderful thing to be discovered. But, after finding those resonant excerpts among all of those silly, melodramatic stories and essays, I can tell you that it's a wonderful thing to rediscover yourself. –Wiley Cash
---

Miwa Messer is the Director of the Barnes & Noble Discover Great New Writers program, which was established in 1990 to highlight works of exceptional literary quality that might otherwise be overlooked in a crowded book marketplace. Titles chosen for the program are handpicked by a select group of our booksellers four times a year. Click here for submission guidelines.