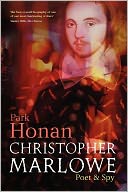 On this day in 1593 Queen Elizabeth's Privy Council issued a warrant for the arrest of Christopher Marlowe on charges of spreading "blasphemous and damnable opinions." Five days earlier Marlowe's roommate and fellow playwright, Thomas Kyd, had been arrested on similar charges; under torture (apparently a set piece on the rack called "scraping the conscience"), Kyd had claimed that the offending documents in his possession were in fact Marlowe's. Marlowe was allowed out on bail, but the day before his scheduled court appearance, and at just twenty-nine years of age, he was killed in a drunken brawl in Deptford, a dagger through his eye.

Though sensational enough, these facts do not nearly cover the controversial life and death of the poet-playwright who, many say, had the talent of Shakespeare (was in fact "Shakespeare," say a few). Marlowe was certainly a drinker and a hothead, and often in trouble with the law; it is now also known that he had been recruited to be a secret agent during his Cambridge days, allowed to cut classes so as to work on unspecified "matters touching the benefit of his country." And it seems that Marlowe died not in a tavern but in a government safe house, in the company of other spies and spy runners, some of whom had the personality and perhaps the motive to kill him. According to one recent theory, Marlowe's hugger-mugger burial in an unmarked grave was a ruse, the poet-spy then ferried across the Channel the day after his faked murder to do more espionage and meet an unknown fate.

Add to this Marlowe's freethinking, as evidenced by his association with the so-called School of Night group, and in such plays as Doctor Faustus; also his free loving, as in such lines as "Come live with me and be my love, / And we will all the pleasures prove"; or the fact that Angelina Jolie has his motto, "That which nourishes me destroys me," tattooed sub-navel. In short, Marlowe continues to fascinate, the two most recent full biographies being Park Honan's Christopher Marlowe, Poet & Spy (2006) and David Riggs's The World of Christopher Marlowe (2004).
---
Daybook is contributed by Steve King, who teaches in the English Department of Memorial University in St. John's, Newfoundland. His literary daybook began as a radio series syndicated nationally in Canada. He can be found online at todayinliterature.com.