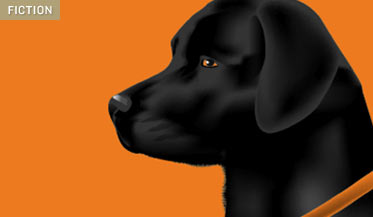 All roads lead to Shakespeare for Matt Haig, which turns out to be a good thing. There?s no one quite like the Bard for barging head-first into a tale of death, desperation, and betrayal, and wringing out some laughs along the way. No flinching, no sentimental sap, no turning back.

That?s how Haig played it in his weird and wonderful debut novel, The Dead Father?s Club, a modern re-working of Hamlet, and that?s how he hands us The Labrador Pact, an offbeat look at domestic life through the eyes — and voice — of the family dog.

The dog in this case is Prince, a Labrador rescued some years back by the Hunter family, a perfect-on-the-outside unit of two parents, a son, and a daughter. The truth, as we soon learn, is that Prince actually rescued the Hunters. He saw them from the behind the bars of his cage at the pound and decided they would be his: "So instead of chewing my testicles abstractedly, as I had when every other sorry prospect walked past, I sat up and made an effort. The perfect dog for the perfect Family," Prince tells us.

Ensconced in his suburban paradise, Prince soon meets his mentor, a yellow lab named Henry. Henry teaches Prince all about the ancient Labrador Pact, an ethos whose many edicts boil down to "Duty Over All." That duty is to protect the family unit at all costs: "We are the last dogs to understand the need for duty over all," the pact states. "We are the last to realize that human Families hold the key to our future survival."

Henry also explains the finer points of the Springer Uprising, a rebellion in which pleasure-seeking spaniels have undermined the canine devotion to duty that keeps the human world from flying apart. With lessons like Advanced Wag Control (the key to sustained family happiness) and Sensory Predictive Awareness (how to smell trouble before it happens), Henry hands Prince the keys to his kingdom.

Which is as good a time as any to talk about Henry IV, Part One, the Shakespearean history play upon whose warp and woof (sorry) Haig?s odd novel is laid out. In the play, Prince Hal wavers between his filial duty as the future king of England and the pleasure-soaked world of his pal Sir John Falstaff. Prince-the-dog knows full well his duty to his family, but he has a Falstaff of his own — that?s the name of the springer spaniel mix across the park — who does his best to lead the Lab astray.

Here?s Prince, under the influence after a bit of (forbidden for Labs) pleasure-sniffing: "As I inhaled, a wild and heady cocktail of smells hit me. Rich earth, leaf juice, worm blood, squirrel droppings. I recognized each smell, but had never experienced them with such intensity. Time stopped, or shifted sideways. My whole body dissolved into the air. I couldn?t feel my paws."

Overlaid on the Shakespearean tale is the human story of the Hunters. Adam and Kate (yes, more Shakespearean echoes) have two kids, a mortgage, a shaky marriage, and more than a few secrets between them. For no reason we can discern, they haven?t had sex in years.

Prince, whose sense of smell tells him what people are feeling, knows great danger has arrived when a new couple moves into the big house across the park. Simon, an old acquaintance, still has a thing for Kate. His young and sexy wife, Emily, makes it her job to seduce Adam. Prince finds himself caught in the middle, knowing all (thanks to that remarkable doggy nose) but able to do little.

The adults go astray, the kids misbehave, and Prince soon finds betrayal all around him. The people he is sworn to protect do stupid and destructive things, and wag though he might, Prince can?t save them. The dogs he lives among — Labs and springers both — turn out to be not much better.

You can?t help hearing the chilly echoes of Orwell?s Animal Farm, though instead of the oppressions of Soviet totalitarianism, the subject here is the danger of the modern family. And then there?s Lear, a Rottweiler whose speech is so peppered with f-bombs that not even a fragment of Haig?s hilarious summation of Shakespeare?s great play is left to quote.

Though there?s plenty of plot to go around, The Labrador Pact feels strangely lean. Maybe it?s the short, short chapters, which range from four words ("There was a sound") to several pages. Or it could be that Haig is being true to Prince?s worldview, limited as it is to what his nose can tell him.