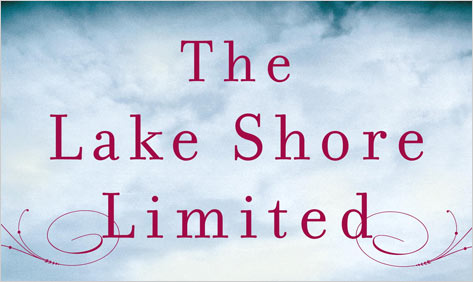 It's a cold and rainy night when the main characters of The Lake Shore Limited, the ninth novel by Sue Miller, converge on a small theater in Boston. Leslie and her husband, Pierce, have driven down from their cozy home in rural Vermont to see the newest play written by Wilhelmina (Billy) Getz. Sam, a Bostonian friend of the couple, is meeting them for the show, and for dinner after.
Though the evening is ostensibly a way for the three friends to reconnect, Leslie has secretly set another plan in motion. Billy, the playwright, was once engaged to Leslie's brother, Gus, who died on an airplane in the September 11 attacks in New York. Now, six years after that tragedy, Leslie has decided to set Billy up on a blind date with her pal, Sam. Not all that odd, really, until you learn Leslie was, not so long ago, half in love with Sam.
And although that was all in the past now, and probably for Sam nothing memorable — a vague feeling of sweetness and perhaps melancholy to their friendship — Leslie had a sense of renunciation in introducing Sam to Billy, a sense of giving up a thing of private value.
Billy, meanwhile, is herself about to publicly reveal something so private and disturbing, it has overshadowed her life in the six years since Gus's death. Her play, also called The Lake Shore Limited, is named for an Amtrak train that travels daily between Chicago and New York City. In Act One, Billy blows it up with a terrorist's bomb. But her protagonist, whose wife is on the doomed train, can't ignore the fact that her death, while tragic, would also come as welcome news.
It's quite the set-up — solidly familiar ground for Miller. Her ability to sketch a character so you just know that you know him, until she strips him bare and you realize you didn't know him (and by extension, yourself) at all, has won her a wide following. It's here, all of it, the telling detail, the elegant prose, the shocks and setbacks and myriad betrayals that go into the making of a life.
For all the lust and longing and dire drama that drive The Lake Shore Limited, the story itself is oddly muted. Maybe it's the fifteen or so pages at the start in which Miller forces us to listen as Leslie watches the play and explains it to us in detail, blow by blow, in real time. Has any description of a novel or dream or painting or book ever come close to replicating the experience? And while Billy turns out to be a terrific character, young and mixed-up and angry, she is too often shoved to the sidelines as Miller switches her focus to other, less engaging characters. Their stories get told in flashbacks, which themselves often contain flashbacks.
But, while you fight it for a while, eventually you give in. The stories telescope around you, past informing present, present leading back to the past until, in Miller's skilled hands, even the smallest movement forward feels like an epiphany.