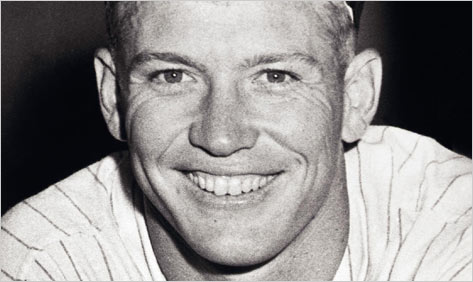 Theschizophrenic quality of Mickey Mantle's life is made powerfully manifestthroughout Jane Leavy's exhaustively researched, delightfully readablebiography. Right from the start, Mantle's enormous athletic potential wasbundled with his debilitating psychological and physical problems. Leavy notonly wrestles with the maddening contradictions of the man himself but also thecarefully-constructed myth of Mantle: that the Yankee slugger, by purewillpower, transcended humble beginnings and a lifetime of physical pain tobecome an American icon. But she keeps her eye on more than the facts of hersubject's life, recognizing that fans and writers (herself included) have "invent[ed]a kinder, warmer, bigger Mick, the Mick [we] wanted him to be."
Mantle's distant father,like several Mantles, died young, leaving Mickey a sense of abandonment and afatalistic streak. Once his ballplaying career took off, he found himselfsaddled with excruciating pain from multiple on-the-field injuries. Despitethese physical and psychological problems, his wounds were largely cloaked—thepress and public celebrated Mantle as a shimmering example of American manhood.As Yankee wife Lucille McDougald tells Leavy, "Who wouldn't hop into bedwith him?" Married with children, Mantle loved the nightlife, drinking andchasing beautiful women (or in Mantle's case, being chased). Much like hisbattle-scarred knees, his liver and his marriage almost collapsed under theexertion.
Leavy interviewed everyoneclose to Mantle. The slugger's hyper-forgiving wife, Meryl, tells Leavy that "[h]ethought no one ever loved him." TheLast Boy's most telling revelation may be in Mantle's sexual abuse as aboy, a trauma which made him largely incapable of trusting others. When Leavyinterviewed the retired Mantle, he was drunk and made a pass at her. She alsowatched Mantle telling numerous dirty jokes and off-color anecdotes. Thetragedy Leavy exposes is that Mantle only confronted his present problems, and damagedchildhood at the end of his life. If we like our heroes because of, not inspite of, their frailties, then Mickey Mantle may be the greatest hero of all.Leavy gives us Mick, not necessarily as fans have wanted to see him, but stillglorious in all his self-destructive, splendid complexity.