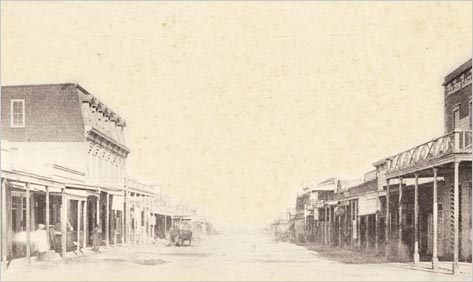 It took all of thirty seconds, but the 1881 shootout at the O.K. Corral had been brewing for years. Context–that's what Jeff Guinn has in his sights in The Last Gunfight, that and the occasional corrective to keep the facts straight (such as the event actually being a gunfight in a vacant lot off Fremont Street, Tombstone, Arizona — but there isn't much poetry in that). Who were the men involved, the Earps and Doc Holliday, the Clantons and the McLaurys? How did they end up in Tombstone? Why were they mortally at odds? Then there is the bigger picture: What made Tombstone tick? What was the character of the American Southwest in the twilight years of the 19th century?
Guinn has marshaled a considerable amount of detail to render this context, which he deftly blends into a chromatic, ominous narrative leading straight to that vacant lot. The moods and seasons of Tombstone and its citizens lift off the page, conveyed through a natty sense of place: a boomtown fueled by silver mines, saloons, gambling, prostitution, and cattle rustling, but also a little spasm of modernism–once you overlooked the rats swarming in the streets–with theaters and salons, lawyers and newspapers, well-policed and mostly peaceful.
Peaceful in large part because of the Earps, who found themselves in Tombstone via Wichita, Deadwood, and Dodge City; they sure knew how to pick 'em. They weren't saints, not above "playing cards and running whores," but they weren't shady, either, and three of them held law-enforcement positions. Guinn gives each brother–Virgil, Wyatt, James, Morgan, and Warren–a good character sketch, sticking to the record, which was not always pretty, especially when they stopped keeping the peace.
The problem–other than the Earps' insecurities, grudges, imbroglios, and bad decisions–was the cowboys. The cowboys were serious bad boys, one of whose pastimes was rustling cattle from northern Mexico and selling them to ranchers with whom they were in cahoots, like the Clantons (crazy Ike and mild Billy) and the McLaurys (feisty Frank and quiet Tom). Through a complicated but enthralling series of misadventures and personality issues, the Clantons and McLaurys find themselves at the wrong end of Earp anger (not to mention consumptive dentist Holliday, the subject of a recent novel, Doc, reviewed in these pages) somewhat near the O.K. Corral. The shootout is a piece of murderous chaos–closely followed by townsfolk who appreciated "something bloody and special was about to happen" when three Earps and Doc started marching down the street–which begat godawful revenge and counter-revenge, chillingly recreated by Guinn.
Guinn has fashioned here a work of character and environment, of sharp and illuminating storytelling, the kind of grounded historical narrative that can find its own poetry in a vacant lot and circumstance.