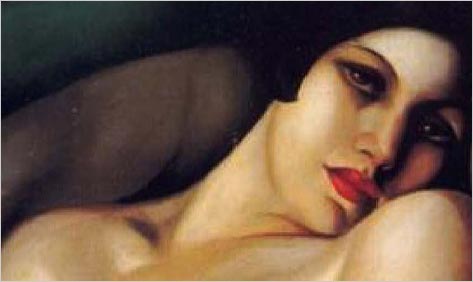 There are books — and thank heaven for them — that refuse to accommodate themselves to our mundane lives. The reader must squeeze into theirs. Forget about the deadline and the groceries, the conference call and the laundry. The year is 1927 and you are going to Paris. Magnolia trees, a jewel-green motorcar, a woman with a dog — it's the Bois de Boulogne, and you don't have a thing to wear.

Which is fine, tant pis, because at least a third of the sultry novel The Last Nude takes place in the altogether. The author herself credits a nude as inspiration: when Ellis Avery first saw Beautiful Rafaela, a 1927 oil painting by Polish artist Tamara de Lempicka, at a show at the Royal Academy in London in 2004, she found it, as she says, "hair-raisingly sexy." The painting is rich — dark, moody; the woman's skin glows, and every edge is round and graceful. She fills the canvas, leaving no room for any other thought. It is one of those unforgettable paintings that shifts a viewer into its own emotional space.

Avery, unlike de Lempicka, has only words, a linear array of black-and-white symbols. A gifted writer, she polishes those words until they lift into color, and strings them like beads that pulse with rhythm and movement. Playing throughout her story with the contrast between beautiful and ugly, good and venal, amusing and pitiful, Avery seduces just as effectively as her beguiling subjects. We are, as they say, putty in her hands.

Beauitful Rafaela was, in real life and in the novel, a seventeen-year-old girl de Lempicka (then twenty-seven) met in the Bois de Boulogne — the park has long doubled as a red-light district — in 1927. She asked Rafaela to pose for her, and the two women fell in love. Avery dials the story back to trace Rafaela's route from America to Paris as a refugee from a planned engagement: her mother and stepfather, back in the Bronx, have arranged a marriage to a young Italian boy and booked Rafaela's passage to Italy. Already beautiful at sixteen, she meets an older man on the ship and flees with him to Paris, land of Chanel dresses, the Ritz, and Sylvia Beach's bookstore. But once the relationship fizzles, Rafaela must live by her wits, doing things for money she would prefer not to do and trying to hold on to both dignity and spirit. She sews her own clothes and, fully disowned by her mother, knows she has to make it on her own.

Enter de Lampicka, a beautiful, greyhound-thin, golden-skinned Polish countess who is estranged from her husband and living with her young daughter, painting six hours a day and trolling the parks and streets of Paris for models. She offers Rafaela 100 francs, takes her back to her studio in the Seventh Arrondissement — and the Bronx recedes for all of us.

The paintings she makes of Rafaela become the talk of the town and are highly, obsessively coveted by wealthy aristocrats and government officials. There is too much absinthe, too much style, too much money, and too much sex: emotions harden into things, things that can be purchased, a transaction that does not have much to do with love.

And here, something interesting happens between the reader and the novel. The literary pheromones that propel a reader through the novel's first delicious scenes dissipate slightly but noticeably. The narrative gets between us and the beauty we were originally bewitched by, and it looks flimsy in the cold light of day. We long to scurry back into the painting, a shelter from ugliness (laundry, conference calls, and traffic jams). We resent the story, and it does not hold up well under our resentment.

The relationship between Tamara and Rafaela gets tarnished, and poof! — they are less interesting. Waiter, another glass of champagne! We swan off to another corner of the mirrored room. Avery tries to lure us back with chocolates and cognac, a Saarinen table, but it's too late. Tamara is getting old and paranoid. Rafaela has moved on. "The year my husband left — the year I feared poverty most," thinks Tamara many years later, "was the freest year of my life, and the day I met Rafaela was the freest day. A man could find what he wanted in the Bois as a matter of course, but I was a woman, and I got her in my car anyway."

Avery captures that freedom, and the abandon that follows. It is enough. It is enough.